'A world in flux': A Canadian aid worker on the humanitarian challenges posed by climate change
Sandra Smiley is a Canadian who works with Doctors Without Borders/Médecins Sans Frontières (MSF) as an advocacy officer. In the blog excerpt below, she elaborates on how participating in a recent climate strike in Vancouver made her reflect on her most recent posting with MSF in Democratic Republic of Congo (DRC).
By Sandra Smiley
The Vancouver climate strike was one of hundreds organized by young people in cities across the globe this autumn. It was so big, so loud, so impressive to see, it was as if the whole world had come out to march.
As I walked through my city that Friday, protest songs ringing in my ears, I thought of those whose voices might not be heard making a distressed call for action – those for whom climate change is one existential threat among many.
My thoughts travelled back to the Democratic Republic of Congo.
An unprecedented outbreak in Congo
A few years ago, I was on assignment with MSF in the east of the country – a region that has been at war with itself for decades. MSF was – and still is – working in eastern Congo to ease suffering directly linked to conflict; but we are also there to temper the indirect toll it takes in the form of malnutrition, psychological trauma and disease.
As well as outreach activities in camps for displaced people, one of the major medical projects that MSF runs in the region is a general hospital in Masisi, North Kivu province. Along with all the services you'd expect to see in such a facility, the MSF team in Masisi also does what's called "disease surveillance" – monitoring the activities of small outlying health centres so as to be able to respond to health crises in those areas, if needed.
In October 2015, the emergency team started receiving reports of unprecedented numbers of severe malaria cases in a remote, mountainous region of North Kivu. The health centre there was overwhelmed with very sick people; so the emergency team gathered the necessary supplies, packed their bags, and headed out.
Reaching people cut off from medical care
Startup was challenging.
First, only part of the journey into this area could be successfully navigated in a vehicle. The rest of the way had to be travelled on motorbike – which meant that all of the supplies necessary for the intervention, from paperclips to power generators, had to be brought in on two wheels.
Second, the quality of care available in the affected villages was very low. When the first MSF responders arrived, patients had become so ill that they had to be rushed to the reference hospital, 30 kilometres away to receive proper care. Given the state of the roads and the state of their health, some sadly died along the way.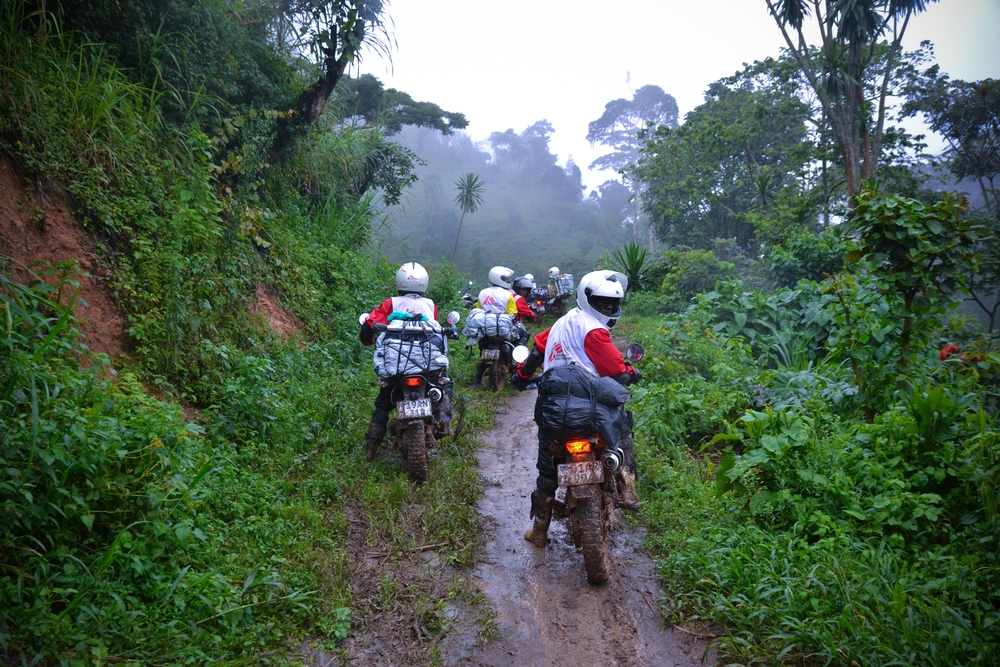 It wasn't surprising that the health system, weakened to breaking point by years of conflict and underinvestment, wasn't equipped to manage this disease peak on its own.
Many of the other NGOs in the area have left due to the challenging security situation and a lack of funding.
In my time working in Congo, I saw health facilities without electricity, without running water – even without mattresses for patients to lie on.
But there was something about this response that was unusual.
Not a standard malaria outbreak
Typically, in malaria outbreaks, the sickest patients are small children, as their immune systems haven't yet built up defenses against the disease. In this one, medical staff were treating very ill teenagers, and even adults.
What was making them so susceptible?
Could it have been the increased rainfall and higher temperatures that people spoke of in that year? Had warm, stagnant waters created the perfect conditions for mosquitoes to breed, in an area where they'd previously been a rarity?
It was possible, but there were other potential explanations.
This was a conflict zone, and raids on villages routinely displaced people from their homes. Perhaps some had fled from high in the mountains, where the mosquitoes that transmit the disease cannot survive, to lower elevations where they can?
Or maybe that year, a different strain of the malaria parasite had gained a foothold in the region – one that people hadn't previously been exposed to?
It wasn't clear why this outbreak was so widespread. But whatever the reasons, we had to act.
Bringing urgently needed care
The emergency team deployed skilled staff to the local health facility and improved available infrastructure. Soon, we were able to treat very sick people on the spot, rather than having to send them to a hospital a few dozen kilometres – and a torturous motorbike ride – away.
We also knew that there were more sick people out there, and that we couldn't wait for them to come to us. People were accustomed to encountering huge barriers to healthcare: having to travel long distances, for example, through areas which might be unsafe because of armed clashes; or being made to pay for services with money they don't have. As a result, they usually tried everything else – traditional healers, medicines purchased at the market – before seeking medical assistance.
Why would this time be any different?
We had to go to them – and we did, through daily mobile clinics.
Treating malaria patients
In a mobile clinic, MSF staff gather the supplies they need and travel to the target area. Sick people are assembled somewhere – often a church or a school, but sometimes, just tents or under the shade of a tree. They are screened using a rapid test, which indicates within minutes whether they're suffering from malaria.
If a patient tests positive, they're counselled by a nurse, provided with treatment, and given a date to follow up. If they have the more severe form of the disease, they're referred back to the health facility where they can receive an advanced level of care.
In these clinics and at the health post, MSF and Ministry of Health staff were seeing around 500 patients per day. In the end, we treated thousands of people suffering from this deadly disease. The death rate from severe malaria dropped significantly, and we were able to wrap up the emergency response a few months later.
Climate change is a humanitarian issue
People in North Kivu already suffer the consequences of conflict; of entrenched poverty; of a health system left dysfunctional by years of neglect. Like in so many other places, experts expect climate change to make a bad situation worse in DRC, bringing about more extreme weather and related crises: floods, landslides, drought and crop failure.
Of course, all of this will take place against the backdrop of fighting in Congo's eastern provinces, which is driven not so much by ideology, but by resources – means of survival.
As resources become less and less available, a changing climate threatens to fan the flames of conflict.
The science of climate change
A world in which greater resource scarcity and weather extremes are the norm will create more of a demand for humanitarian aid. And as we see these extremes manifest, the health of our planet is, I think more unequivocally now than ever before, a humanitarian issue.
As in North Kivu, it is hard for us to say immediately whether the disasters that humanitarians are responding to are the direct result of a shifting climate. There are still gaps in the science, particularly linking the events that we see today with the shifts in climate that have already occurred.
Fortunately, the science is improving; but I think we must also come to terms with the fact that for many crises, we may never have a crystal-clear picture of what is happening. As the scientist and environmentalist James Lovelock put it, science is a "club of specialists who follow their numerous different stars; it is proud and wonderfully productive, but never certain…."
Indeed, the very purpose of the scientific enterprise is to question. It makes no sense to wait for certainty that will likely never come.
Reason enough to act
The "precautionary principle" is an idea that was first codified in the Declaration of the Rio Conference on Environment and Development – on the occasion of which, back in 1992, young people mobilized over climate change for many of the same reasons as they did last month.
Simply put, it is the idea that when there is substantial, credible evidence of danger to human or environmental health, protective action should be taken even if all of the evidence isn't yet in.
As the earth warms – and it is warming, that much is indisputable – aid organizations are giving shelter to people who have left their homes behind because drought and desertification have rendered them unliveable.
We are treating their children, who have fallen into malnutrition amid increasingly irregular rainfall and crop failure. We are watching as they weather intense and frequent storms, disproportionately in the countries that are least prepared to deal with their consequences. From working inside their communities, we know that they will need assistance adapting to a world in flux.
What we know now is more than enough to go on.
It is enough to make us, as humanitarians, look critically at ourselves and on the impact we are having on the planet.
It is enough to drive us to improve our capacity to meet demands created by a changing Earth.
It is enough to justify speaking out for its victims, and challenging narratives that attempt to ignore them, erase them, or demonize them for seeking a more certain future for themselves and their children.
As per the precautionary principle, uncertain situations require decisive action. In the streets, as in our hospitals and clinics, millions of people are asking for it.