MSF emergency teams on the ground in Central Sulawesi, Indonesia, following earthquake and tsunami
On September 28, a 7.5-magnitude earthquake struck Indonesia's Central Sulawesi province, generating a deadly tsunami. Doctors Without Borders/Médecins Sans Frontières (MSF) teams are on the ground in order to provide critical medical and technical support.
A team of Indonesian MSF colleagues composed of medical, water & sanitation and logistics specialists went to the affected areas to assess the situation. In collaboration with the Ministry of Health (MoH) team on the ground, they evaluated the needs in the more remote and rural areas, as the massive government response is concentrated mainly in the areas around the tsunami-hit Palu City coastline, and Petobo to the south which was affected by liquefaction – a phenomenon wherein the soil loses strength or density and turns into mud, causing landslides. After initial constraints in transportation and access to various locations, our team managed to reach the affected areas, mainly around the sub-district of South Dolo, Sigi, and further north along the west coast of Donggala district, which is home to over 50,000 people.
As services in Palu City are slowly resuming, with shops and restaurants starting to re-open, electricity restored and all hospitals functioning, the main priority now is to provide support to health centres in these remote areas to restart their primary health care activities and ensure the prevention of epidemics such as diarrhea, skin diseases, measles, etc. Restarting routine vaccination, data collection and epidemiological surveillance for different diseases will be also part of the support that will be provided by our colleagues. Temporary structures for consultations and maternity services, and access to sufficient clean water will also be installed.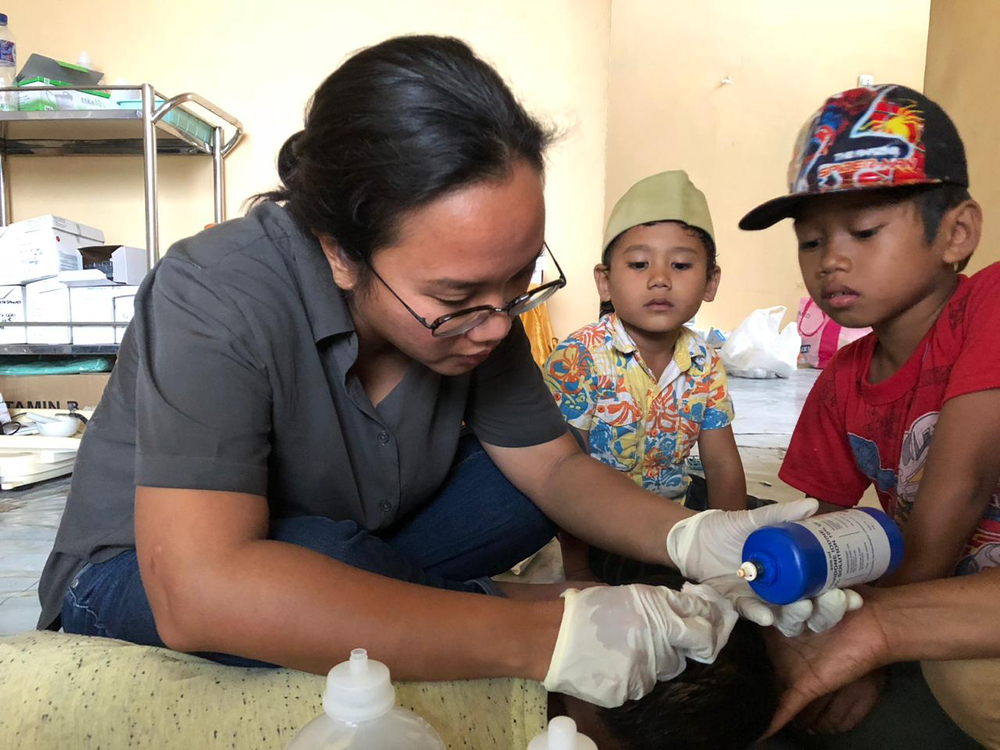 In these few first days, the team, together with the communities, managed to access the medical stock in a damaged clinic and transferred the stock to a neighbouring house in order to restart medical consultations and the delivery of medication.
"Until today [October 11], we still see patients with closed fractures due to the impact of the earthquake. We have been working closely with the Health Agency, and our mobile clinic team travels every day to provide health services access for these patients," said Dr. Rangi Wirantika, one of the doctors in the field.
Two local psychologists will soon join the team to provide mental health care to medical staff of the health centres and to the most affected members of the population.
"The affected communities have limited access to clean water, which is important to reduce the risk of possible epidemics. In some areas,  people have to walk up to two kilometres just to get water," said Timothius SP Benu, MSF's water and sanitation specialist.
The main goal will be to ensure that the population has access to safe water, by repairing or cleaning the existing sources (i.e., hand pump or wells) or setting-up temporary solutions such as water tanks and water treatment systems.
While conducting these activities, the team will continue to assess the needs in the surrounding areas and will respond according to possible needs.
In the video below, Daniel Von Rege, MSF's head of mission in Indonesia, describes what our teams, which include medical, logistics and water/sanitation personnel, will be focusing on in the immediate term. "We will be looking at primarily geographical and technical areas. What we will be looking at is the primary health care facilities that are damaged and destroyed, secondary healthcare and facilities that might need more supply or technical support, also we are going to be looking at the supply of clean water as this is essential to reduce the spread of epidemics."
Updates and timeline
October 5
As of yesterday, it has been confirmed that 1,581 people are known to have died following the earthquake and tsunami, a further 2,549 have been severely injured and 113 people are still missing. To date, there are 71,000 displaced people living in displacement sites in Palu. More than 66,000 houses have reportedly been damaged, although this figure may rise as more assessments are undertaken.
Fuel supplies in Palu remain an issue; lineups have been observed and fuel stations are being guarded by military and police. As of yesterday, power had been restored in some, but not all parts of Palu; however, access to water remains a concern.
October 3
More than 1,400 people were confirmed dead. The previous day, the Indonesia government's National Disaster Management Agency (NDMA) also reported that more than 799 have been seriously injured and 99 are still missing.
These figures will increase as more areas become accessible, and the government conducts more assessments. Buildings, including houses, shops, mosques and hotels, have collapsed, been swept away or suffered extensive damage.
An estimated 66,000 houses have been damaged, and almost 62,000 people have been displaced and staying in over 100 sites.
Displaced people are living in tents or have no shelter; reportedly many of those currently in the IDP sites are from outside of the city while many residents have already left Palu.
Liquefaction has been reported in Petobo village in Palu, with black mud rising up to five metres and reportedly burying one hundred people alive. Liquefaction has also been reported in south Palu, Biromaru (Sigi district) and Sidera village (Sigi district). Landslides from Toboli to Palu have been reported.
The government of Indonesia has indicated that national search and rescue resources are sufficient for the ongoing earthquake/tsunami response. Therefore, all international search and rescue teams that are on standby are kindly requested to stand down. 
October 1
According to the official report of Indonesia's National Disaster Management Agency (NDMA), as of September 30, the recent earthquake and tsunami in Central Sulawesi, Indonesia has resulted in the deaths of 832 people (821 of which are from Palu City and 11 from Donggala Regency).
Also, 540 people are severely injured, 29 are missing, and a total of 16,732 people have been displaced. The numbers are expected to continue to increase as there are still those reportedly buried under collapsed buildings.
Doctors Without Borders/Médecins Sans Frontières (MSF) has deployed a local team to Central Sulawesi, Indonesia to conduct an assessment of medical and humanitarian needs in coordination with the national response mechanism. The team is composed of medical, logistics, and water and sanitation specialists. MSF will continue to provide updates on further developments.
Donate now to support Doctors Without Borders/Médecins Sans Frontières (MSF)'s worldwide emergency medical care