'We haven't had a doctor in four years': Gang violence creates a medical void in Guerrero, Mexico
In Guerrero State, Mexico, communities have been torn apart by violent organized crime. Access to basic public services, including health care, has been decimated. This series of articles gives a glimpse into the daily violence faced by residents of Guerrero State, and the work Doctors Without Borders/Médecins Sans Frontières (MSF) is doing to offer relief.
MSF intervenes in eleven communities whose medical services have been decimated
The regions of Tierra Caliente, Norte and Centro of Guerrero State, together with the city of Acapulco, are some of the most violent places in Mexico. Cartel violence has left many people living in fear and isolation, cut off from basic medical services. 
Territory across Guerrero State is fought over by these organized criminal gangs. They seek to control main roadways and towns, forcing communities into submission to collect taxes and coerce people into their ranks. Schools have closed, access to healthcare is limited, and in some places medical staff has left for good. Open discourse is stifled by omertá, the code of silence that is often required to stay alive; now, tension and fear threaten to destroy the social fabric of the region.
In response to the situation, Doctors Without Borders/Médecins Sans Frontières (MSF) is running mobile clinics in 11 communities across Guerrero State, including Acapulco city. 

Guerrero under siege: Locals describe life under the threat of cartel violence
At the request of interviewees, the following testimonies were gathered under pseudonyms and without cameras. 
"Every so often we see corpses dumped in public places. It's traumatic to see them, tortured and cut up," says Abel, a young man in his twenties. "I saw it happen once. One day, we were playing basketball. A group of armed men arrived at the court. They shot at us, threw us on the ground, and took our cell phones and money. They attacked us with machetes. Then, they took my friend. They cut him up. First they cut off his leg, then his arm. He had already fainted when they cut off his head."
The murder on the court happened three years ago. Drug traffickers wanted to reassert their control over the town. The incident traumatized the whole village. Soon after, community police were reinforced, and they say it is calmer now; but neighbours still talk in whispers about "what happened on the court." The reason Abel spoke openly about it is because he's emigrating to the USA soon. He can't take it anymore. The lack of opportunities, the poverty, and the risk of being recruited by drug traffickers as a 'falcon' (lookout) or a sicario (hitman) has forced him to leave. Being a young man in Guerrero can be particularly dangerous.
"We cannot go out or talk freely. We see things happen, but we cannot talk about them," says Juan, 61, a farmer. "Our house was attacked by armed men a few months ago. My sons, who are ten and eleven, were also there. They've been traumatized and frightened ever since. We can't leave them alone anymore."
For months, Juan's town has been cut off due to the violence in the region. Public transport has been decimated by drug traffickers, who want to divert all economic activity to their territory in Arcelia to the north, away from the municipal seat for the region, which is to the south (where the hospital is, and where people go to the banks or to receive subsidies).
"If there's a medical emergency, now we have to pay up to 1,500 pesos to go in a private van. The public fare is a lot cheaper – around 60 or 100 pesos [daily wage is between 120 and 200 pesos]. It's a terrible situation; no-one wants to spend three and a half hours on the road to reach an available public transport. We can't even think about going at night, with the risk of being attacked on the roads."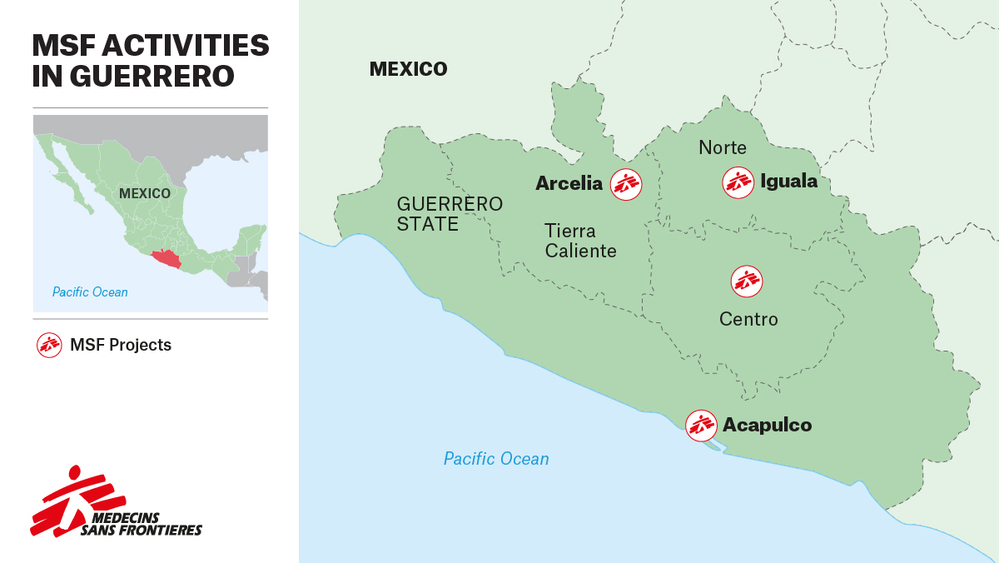 Guerrero's illegal marijuana and opium trade has been a catalyst for most of the violence across the state, forcing people to flee. Across the region, ghost towns, left completely abandoned, are commonplace.
In the town of San Felipe de Ocote, only the animals remain. In January this year, members of the community took up arms to defend themselves against drug traffickers after the kidnapping of a bulldozer driver who had been fixing the road. But when the criminals returned with reinforcements, the community of 600 could not withstand the onslaught of violence. They arrived in Apaxtla de Castrejón with only the clothes on their backs, and are now staying in a social centre, sleeping in classrooms. Many believe they will never be able to return home. Now all they want is a plot of land where they can settle.
According to data from the Mexican Commission for the Defence and Promotion of Human Rights (CMDPDH), 7,598 people have fled their homes and villages across Guerrero over the last two years. Recently, this situation has been repeated in Laguna de Huanayalco, San Bartolo, Laguna Seca and Ximotla.
Insecurity and surges of violence have had a direct impact on medical care in rural towns. Many local health centres across the state count themselves lucky to be run by even a single nurse, who also sleeps at the facility. These nurses have very few resources and must carry the burden of healthcare for their communities. Monthly visits from an MSF team offer a lifeline for locals.
"A lot of doctors don't want to come anymore; the nurses do, thank goodness," says Bruno, a local resident. "We haven't had a doctor for four years, so the MSF visits are essential of course." Eleven health centers in Tierra Caliente, Norte and Centro remain closed. Some for a few months, others for as long as four years.
During a meeting with a local health committee in one of the towns in Guerrero, a dozen women described how insecurity had affected their communities. "There's fear, there's mistrust, there's no happiness anymore," said one of the members. "I used to go out at night without any hassle. But now we go straight home. I go to bed and I don't know what will happen."  People suffer from anxiety as a result: "We're a group of chickens in the coop, we don't know who's going to be grabbed next for the pot," said another woman. 
The committee's regular meetings mean that their members at least can build ties. "But there's still mistrust. Even here, now, with what we say. You don't know who's going to misinterpret what's been said and who they're going to tell," they conclude. They look at each other and nod. Omertá.
These testimonies were gathered during the mobile clinics held by MSF in Tetela del Río, Huautla, Puerto Colorado, Las Margaritas, Pueblo Viejo, Buenavista del Aire, Buenavista de Guadalupe, Totoltepec, Santo Tomás, Campo Morado and Coronillas.

Guerrero State, Mexico: "People are turning their backs on what's happening here"
Javier Lopez de la Osa and Lenin Martínez Aguilar are doctors who have been working in MSF's mobile clinics in Guerrero State, Mexico. Mobile clinic teams are made up of doctors, nurses, psychologists and logistics specialists, who pay monthly visits to communities affected by violence across the state. In this interview, Javier and Lenin talk about how they see the ongoing violence having a huge impact on healthcare. 
What illnesses do you see the most often?
Javier: "A lot of our patients cannot access basic healthcare because of the violence in the region coupled with systemic poverty. We frequently see a real lack of follow-up care for pregnant women, which can lead to serious complications and even death in childbirth, and a lack of attention to chronic diseases such as diabetes and high blood pressure. Without medical care, conditions that were previously well managed get progressively worse and eventually become acute, severe and in some cases life-threatening."
Lenin: "A lot of people in the region are subsistence farmers, eating what they grow. During certain times of the year, when the crops run out, we see children and elderly people suffering from malnutrition. We are also extremely concerned about psychiatric patients, because the job of caring for them, often without the right medication, falls on their families who are already struggling.
We are also seeing a resurgence in folk beliefs and traditional medicine, which can be counterproductive and lead to health complications if the treatments are not safe.
And of course, we see a lot of psychosomatic symptoms that result from the insecure situation; symptoms like headaches, random body pains and trouble sleeping. When you dig a little deeper, you realize much of this has been brought on by the fear of violence."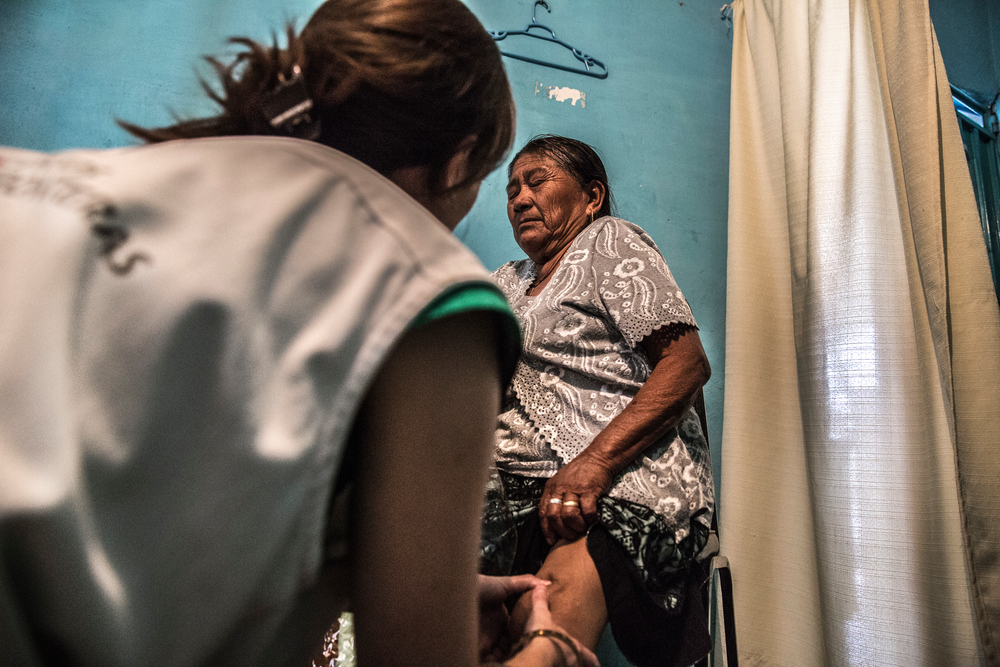 Many towns are isolated because of the violence. How does this impact the population and their access to healthcare?
Javier: "As well as the serious psychological impact of the violence on people living in the region, access to healthcare is restricted by the invisible borders created by criminal gangs.
People from small villages find it difficult to reach the main hospitals in the state. This means that follow-up care, especially for serious and chronic diseases, is really limited.
Patients also tend to hoard medicine, often asking for more 'just in case,' or for extra supplies for the next few weeks. People are trying to avoid leaving their homes because they are scared of the roads. Many people cannot go out at night and transport is very expensive, so they avoid going to hospital as much as possible."
Which patients stick in your mind?
Lenin: "There was a 55-year-old woman who I regularly saw in the mobile clinics. One day I tripped over in the consultation room, fell on the floor and I don't know how but I got my head stuck between the table and the wall. We couldn't stop laughing, and that gave us a certain bond. During the Day of the Dead festival I saw her again and she looked sad. She told me that her only son, who was about my age, had disappeared three years ago. She did not know what happened to him and whether he was alive or dead.
I am always really surprised at how polite people are. I remember one man in particular who came to the clinic with severe muscle pain in his shoulder. I asked him if the pain was because of physical work and he said it was. He wouldn't tell me anything else. Later we found out that he was a hit man. Of course, we treat everyone the same. But I wonder if it would be better not to ask sometimes."
Javier: "The team's saddest day was when a lady who usually serves us food in one of the towns we visit, arrived at the clinic with her grandson – it was also the Day of the Dead. He was six or eight years old, and dressed very smartly in a suit and tie. The lady told us it was because, 'He's going to go see his parents today.' We found out that the boy's mother and father had been kidnapped and murdered, their bodies left by the side of the road. She was taking her grandson to see their graves. The whole team fell silent. It was one of the most heart-breaking days."
What has surprised you most about the situation in Guerrero?
Lenin: "I come from Morelos, in south Mexico, where the poverty levels and healthcare structures are similar to Guerrero. But here, the situation is made much worse by the violence. What never ceases to amaze me is how isolated the populations here are because of it. There are so many armed men and this really restricts access to healthcare facilities."
Javier: "What surprises me is that despite Mexico's vast potential and wealth, its people are living in extreme poverty – it reminds me of post-war Spain. People are turning their backs on the situation in Guerrero. It's as if they want to ignore the violence and massive drug production that happens here."

Mental Health in Guerrero State, Mexico: "People feel forgotten here."
Ivana Cervín and Laura Moreno are mental health workers with MSF's mobile clinics across Guerrero State. They describe the challenges of working in the state and the needs of the population they serve.
Ivana Cervín Marín, 27, is a psychologist working in one of MSF's mobile clinics.
Ivana: "Working in Guerrero makes me realize that I've been living in an alternate reality. Mexico City is a bubble. The reality is this - here, in this situation, in Guerrero which has been historically punished, where the people are now facing a new threat.
The people, of course, have been forced to adapt to this new situation, this new threat. They may become aggressive or violent, and suffer a lot for it; but it is an adaptive response to their new environment.
We have seen everything—missing children, kidnappings, torture, sexual violence, sexual violence against minors, pregnancies in minors; many children exposed to traumas.
I remember one boy who was about six years old, whose grandfather was murdered by the narcos. Then they came back again and pointed a gun at his father and mother. The boy now suffers from post-traumatic stress. He improved a little, but then the narcos returned again; they tortured the father again, with cables, et cetera... His symptoms came back, now he displays avoidance, hypervigilance, anxiety, sudden, unstoppable crying...
On the other hand there is institutional violence, the abandonment of schools and teachers, and the resulting lack of stimulus. However in many populations it is largely thanks to teachers that the social fabric does not completely fall apart. The work they do is so important. We also work with them, to help them and train them in emotional intelligence, to help them support one another and weave networks of support in the community.
The people and the communities we serve in Guerrero are very grateful. When we go back to the same town for our monthly visits, the people tell us, 'We're glad that you haven't forgotten us.' Because that's how they feel; forgotten."
Laura Moreno, 32, from Madrid, is Manager of Mental Health Activities in Guerrero.
Laura: "In Guerrero we provide primary healthcare and mental healthcare to people affected by the violence in the region. We run individual and group sessions, and psychosocial activities, to strengthen patients' coping mechanisms and help repair the damaged social fabric of these communities. This is a challenge, as we only visit each community once a month because of the volatile context. Individual consultations can't be long. There are also other challenges, like our visits coinciding with sowing or harvesting times, or the day they receive public aid and must go to collect it.
We carried out 1,270 consultations in 2017. We've seen people with family members assassinated, with family members who have been forcibly recruited into criminal gangs, people who have been threatened and punished, made into examples.
The people of Guerrero have an unyielding fighting spirit; but if the fear and violence persist, their social fabric could be torn apart. This is why it is so important to reinforce people's coping mechanisms, so that they can manage their emotions in this time of uncertainty and violence.  
We are also very concerned about patients with serious psychiatric conditions. The isolation that some populations face has enormous repercussions for them and their families - they are particularly vulnerable."