Indiscriminate attacks and political violence have promoted a precarious environment in Syria. There is a lack of access to necessary medical care and essential resources. In addition, high levels of violence is forcing civilians to flee their communities. Doctors Without Borders/Médecins Sans Frontières (MSF) starting working in Syria in 2009. 
In 2020, MSF has been witness to various factors causing a signficant level of displaced people in Northwest Syria. 
COVID-19 & Medical Deterioration in Northwest Syria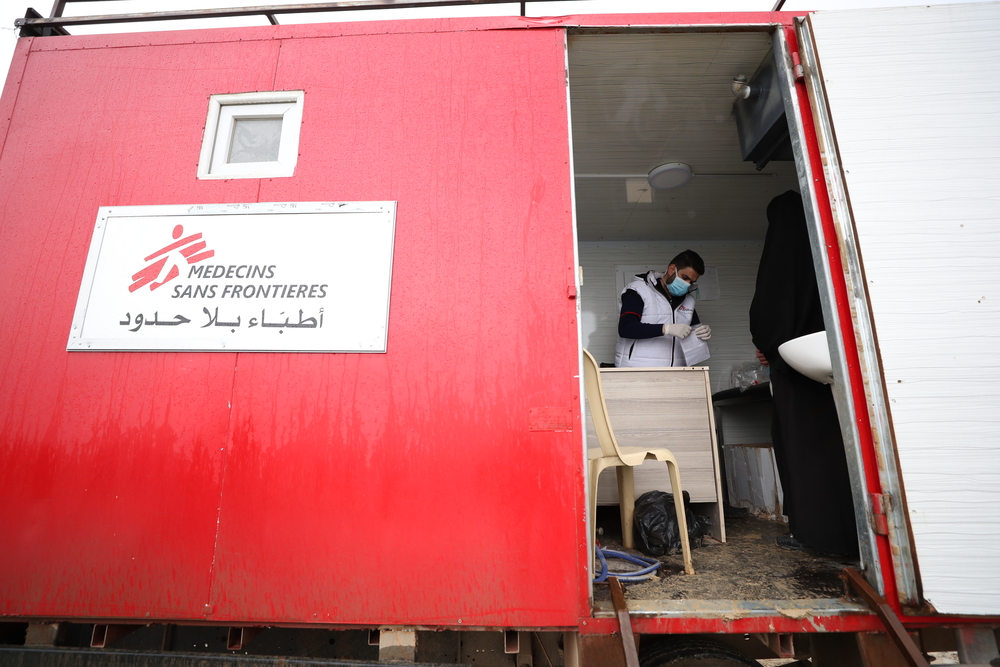 "The fact that the first confirmed COVID-19 cases come from the medical community is worrying, and even more so in a place like Northwest Syria", says Cristian Reynders, field coordinator for MSF operations in northwest Syria. "Just a few doctors temporarily being put out of work and staying in isolation can make a huge difference when it comes to the overall access to health. Even prior to the outbreak, human resources were very limited in the health sector: many doctors have fled the war in Syria and hospitals often have to "share" medical personnel to remain open and function."
Two of the hospitals recently visited by some of the affected medics temporarily closed their doors and all the medical personnel of these facilities were asked either to self-isolate at home or to stay in quarantine in the said hospitals.
Northwest Syria: Navigating COVID-19 in precarious context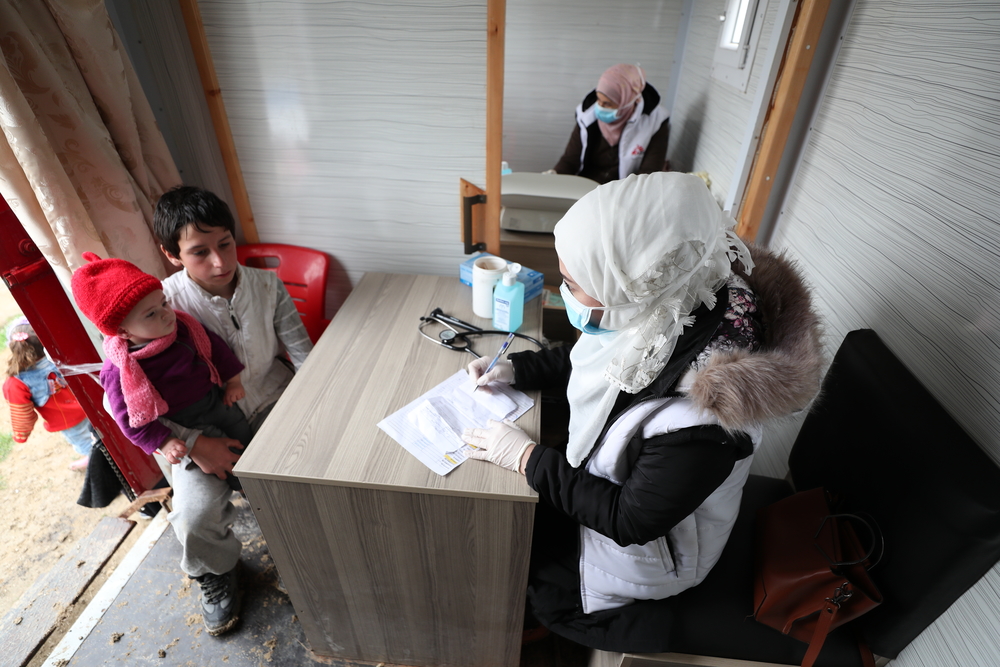 On April 8, 2020, an MSF co-managed hospital in Idlib in Northwest Syria, received a 65-year-old man, suffering from a heart condition, and showing COVID-19 symptoms, such as acute respiratory distress and fever. Upon arrival, he was immediately admitted in an observation tent outside the hospital, set-up by MSF as part as its COVID-19 response.
The team provided him with oxygen and gave him the best medical care possible, while waiting for an ambulance to refer him to a dedicated structure for test and follow-up, in accordance with referral plans agreed amongst the World Health Organization (WHO) and health actors in the region.
Northwest Syria: COVID-19 adds an additional layer of complexity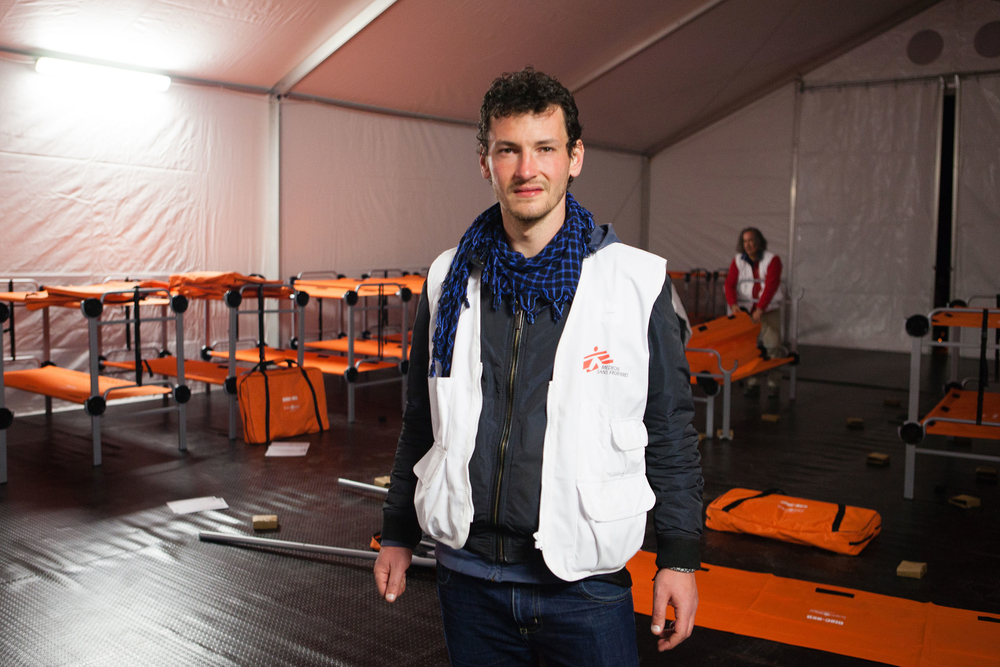 Not so long ago, COVID-19 was not yet making headlines worldwide. On the TV news, you'd watch reports on various non-pandemic-related topics. Many of these concerned the humanitarian situation in Idlib province, in northwest Syria.
The Syrian war has just entered its tenth year and Idlib is currently the area most affected by the conflict. Daily bombing and shelling have displaced almost one million people from their homes in the space of just a few months. Since the start of the year, the fighting has put more than 80 hospitals out of service. Not so long ago, Idlib was a humanitarian emergency. Today it still is. The COVID-19 pandemic has added another layer of complexity to a situation that was already catastrophic.
Idlib, Syria: MSF continues providing relief items and adapts response to COVID-19 threat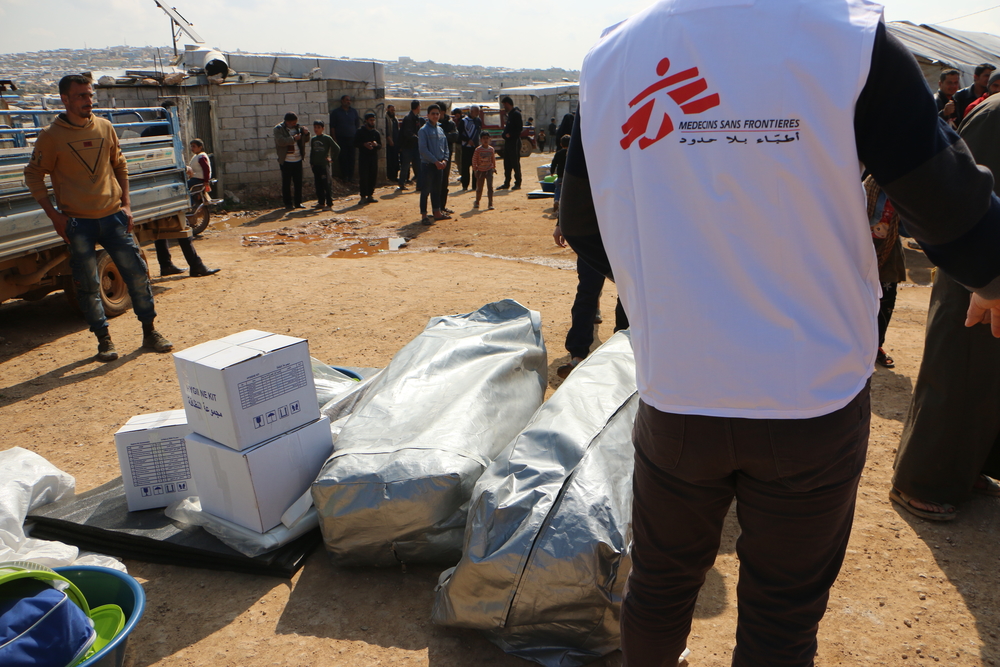 On March 16, after assessing the needs in Deir Hassan camp, Doctors Without Borders/Médecins Sans Frontières (MSF) distributed essential items to 180 families in the Latamneh and Al Habeet settlements, including family tents, mats, plastic sheeting, blankets, cooking sets and hygiene kits.
In Deir Hassan camp, the water and sanitation facilities are inadequate for such large numbers of people, raising the risk of water-borne diseases. So far, upper respiratory infections have been the main condition seen by the MSF mobile clinics. But now the COVID-19 epidemic has become a huge challenge worldwide and in Syria.
Northwest Syria: Despite the truce, the struggle of the population continues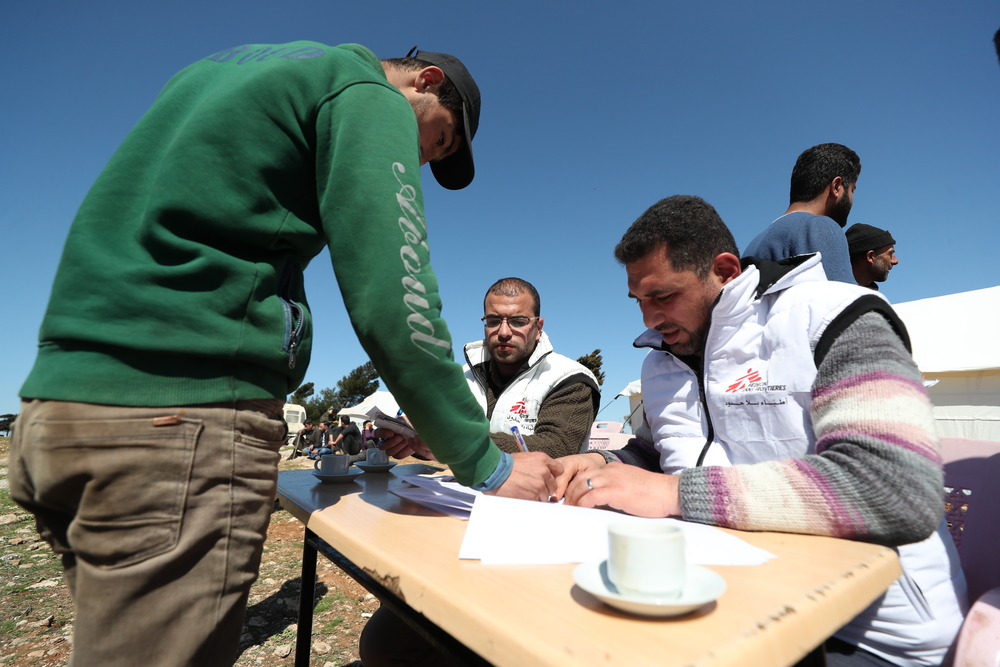 On March 5, 2020, a ceasefire in Syria's Idlib province was agreed by the Governments of Turkey and Russia. Though the intensity of the fighting and the movements of population have decreased over the past weeks, the situation of Syrians who have had to flee the fighting has not changed.  Most of them still live in overcrowded spaces and very unhygienic settings.
Recently, displaced people in Northwest Syria have also had to face winter cold, with temperatures sometimes reaching the negatives at night. "It's just one other factor complicating an already incredibly difficult and dramatic situation" explains Cristian Reynders, MSF's Field Coordinator in Northwest Syria.
Idlib, Syria: MSF to scale up its response as tensions reach a new peak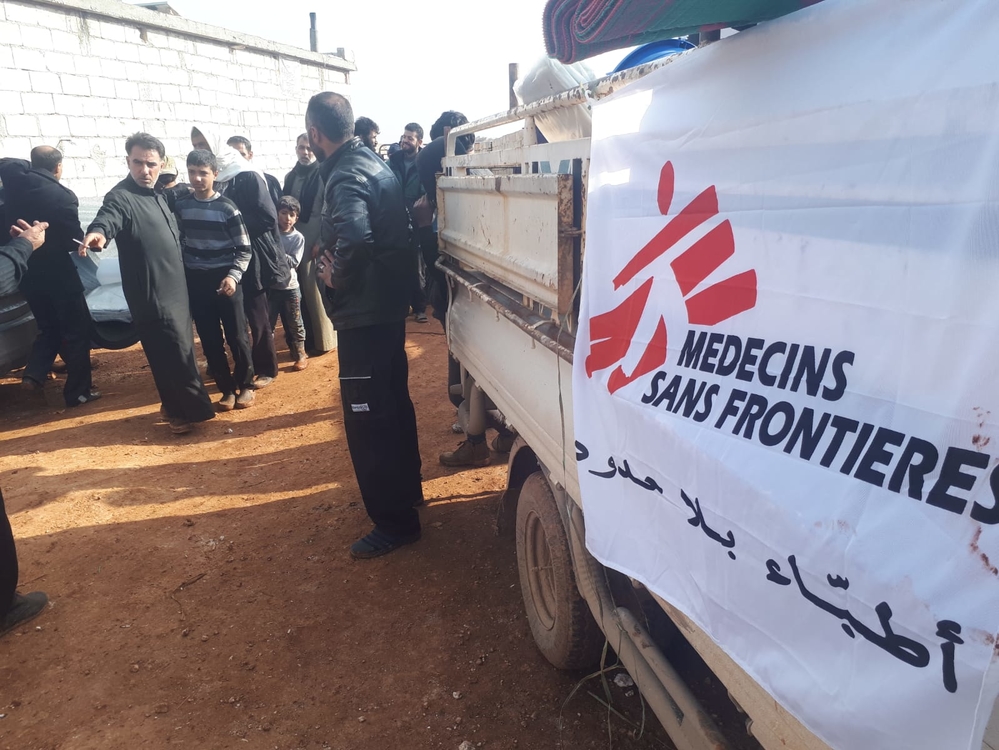 MSF is planning step up medical assistance and aid distributions in response to their escalating needs. MSF is also asking Turkish authorities to facilitate the transit of staff and essential supplies into northwest Syria.
More than 948,000 people have been displaced by bombing and shelling on Idlib province since December 1, 2019, according to the UN. Displacement of people on this scale, and in such a short time, is unprecedented since the Syrian conflict began nine years ago.
Most of the displaced people are concentrated in a small area along the Turkish border and are facing a critical situation. Many have been displaced several times already and finding yet another place to stay can be a challenge.
Idlib, Syria: Horrific day of indiscriminate attacks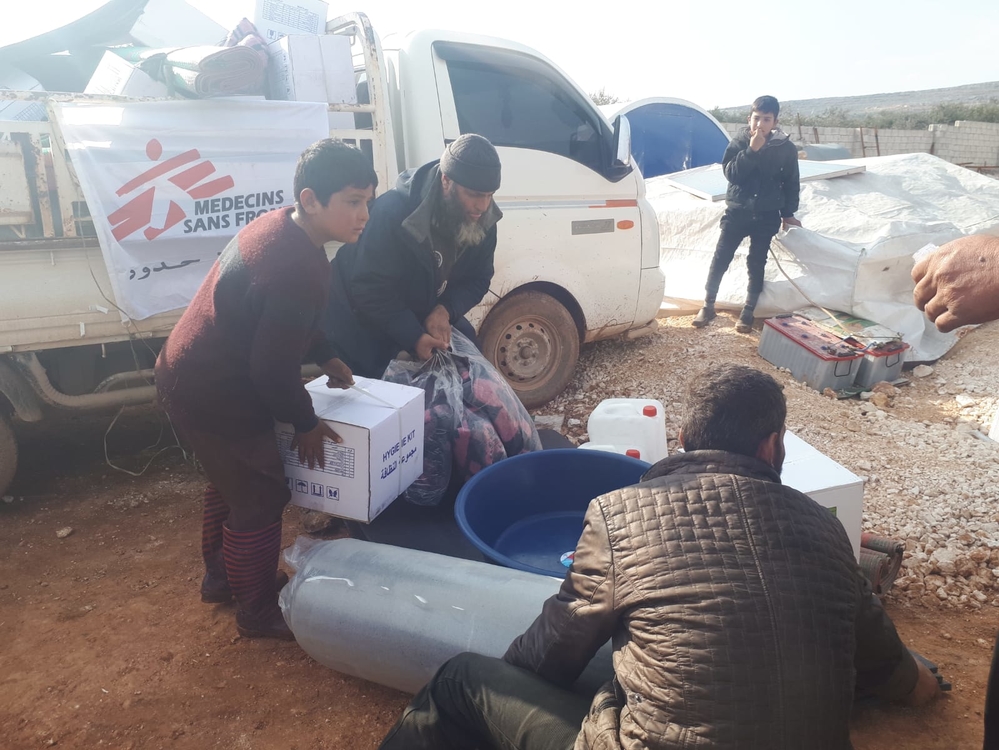 Indiscriminate attacks on civilians areas had predictably horrific consequences yesterday in Idlib governorate, Syria. Three hospitals near the frontlines that are supported by MSF received 185 wounded, and 18 patients who were dead-on-arrival.
"The horrific indiscriminate campaign of bombing and shelling yesterday can only conceivably have been conducted by the Government of Syria and its allies," said MSF General Director, Meinie Nicolai. "We do not know how to make them stop indiscriminate attacks, and we do not know how to make them abide by International Humanitarian Law - the 'Rules Of War'.
We have called many times on the parties to the Syrian war, their allies, and the UN Security Council to do everything possible to bring an end to these violations. We make that call again, with the highest degree of urgency. Civilians and civilian infrastructure must be protected, and our call to respect the rules of war applies as much to opposition groups and the Turkish forces as to the Syrian government and its allies, including Russia, the main military ally of the Syrian government."
'It makes you cry to see it': An MSF doctor in Syria describes the scene as people flee attacks in Idlib region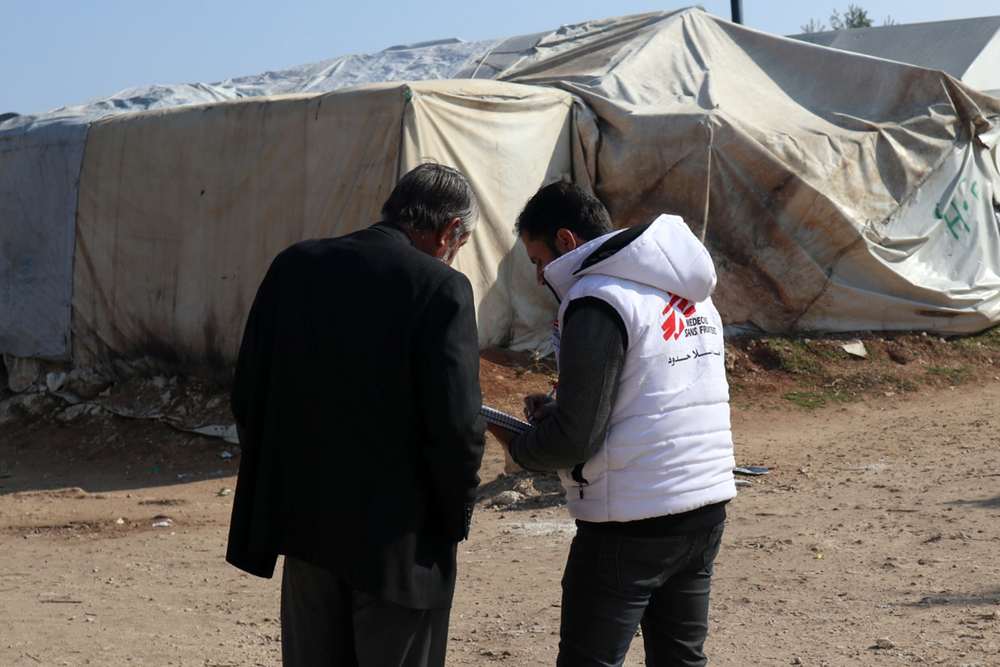 In Deir Hassan camp, 30 kilometres west of Aleppo, describes the situation as hundreds of thousands of people flee an offensive by government forces on the last opposition-held area in Syria.
"In the past week, the army has advanced rapidly through the countryside west of Aleppo. People weren't expecting it. They left their homes in Al Atarib, Abian, Kafr Naha, Kafr Nouran, Maarat-al-Nouman.
Some left on foot because not everyone can get hold of a car. They walked for kilometres in the cold, without their belongings, without anything to keep them warm. Some fled with nothing more than the clothes they were wearing.
Conflict in Syria: As government forces move into Idlib, 'people are facing a desperate situation'
 
In northwest Syria, airstrikes combined with a ground offensive conducted by Syrian government forces and their Russian allies have triggered a huge wave of displacement in the last opposition-held area in the country.
With towns and camps west of Aleppo hit by shelling in recent days, roads are packed with cars and trucks as people flee towards a shrinking area of safety. "People are facing a desperate situation," says Julien Delozanne, MSF's head of mission for Syria.
"Attacks are now taking place in areas that were previously considered to be safe. The people fleeing north are being squeezed into a territory that is getting smaller and smaller, between the front line to the east and the closed Turkish border to the west. Living conditions in the camps for displaced people are already harsh. If the military operation continues, a new influx of people to the area will make the situation even worse."
Northwest Syria : Advancing frontlines reduce access to hospitals in Idlib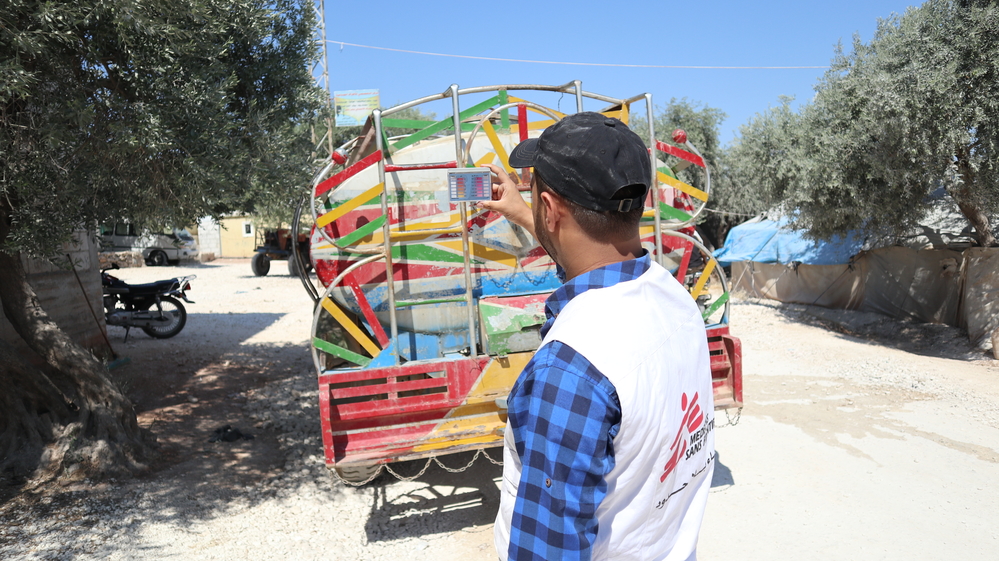 The military offensive carried out by the Government of Syria and its allies in southern Idlib continues, further worsening an already critical situation for the population in Northwest Syria. In the space of two months - December 2019 and January 2020 - nearly 390,000 people have fled from their homes or from the camps they were already displaced in, to escape the daily shelling, aerial bombing and ground offensives. The exodus of 150,000 of these people took place in the last two weeks of January only. MSF has increased its ad-hoc support to multiple facilities closely located to the frontlines, to help them cope with the situation. 
"An important number of hospitals in the area have been hit and have been either partially or fully destroyed in Northwest Syria in the space of just a few months" explains Cristian Reynders, MSF project coordinator for northern Idlib. "What this concretely means is that as the fighting continues, wounded people have less and less chances to even access health facilities. If people must go further to be treated, the chances that their injuries worsen or the probability that they even die is only getting higher."
Northwest Syria: Despair and displacement in winter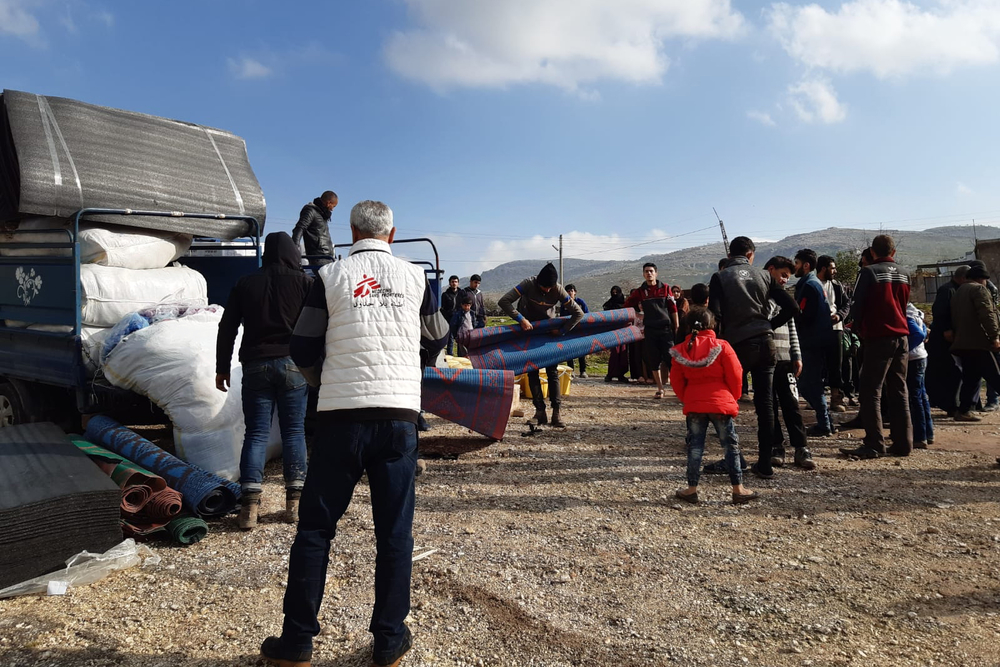 Intense military offensives by the Government of Syria and its allies in southern Idlib, involving shelling, aerial bombing and ground offensives, have resulted in a massive new movement of people to escape the war zone.
The northern part of Idlib, near the Turkish border, already hosted around 1.5 million vulnerable people, and according to the UN more than 300,000 more people have fled their homes since December 1 last year, mostly from southern Idlib. They are frightened, uprooted and vulnerable; and overcrowding, limited shelter options, cold winter temperatures in the mountains and an aid response that is straining at the limit of its capacity mean their situation is particularly difficult.