Doctors Without Borders/Médecins Sans Frontières (MSF) is paying close attention to the impact that climate change will have on our emergency humanitiarian medical activities. We are already responding to many of the world's most drastic crises — conflicts, disasters, disease, displacement — and we see the consequences that rapid environmental change can have on extremely vulnerable people.
Some regions are more vulnerable to climate change than others — in particular, South Asia and the Pacific region, the Middle East, the Sahelian Belt,Southern Africa and Central America. In these and other regions, MSF is already present to deliver urgently needed medical care, and we are monitoring the impact of environmental factors on the health of our patients. A better understanding of the links between climate-related changes and humanitarian medical emergencies is critical to MSF's ability to respond to evolving scenarios, and to prepare for new crises still to come.
Lancet Countdown
In a new policy brief for the Lancet Countdown: Tracking Progress on Health and Climate Change 2020, Doctors Without Borders/Médecins Sans Frontières (MSF) medical humanitarian teams around the world and across multiple disciplines reflect on health and humanitarian implications in a world increasingly affected by climate change.
The policy brief is a contribution the to The Lancet Countdown 2020 report, which warns that no country, whether rich or poor, is immune from the health impacts of climate change.[i]  
Through a series of country snapshots and case studies, MSF authors warn how human-caused disruptions to the environment will exacerbate existing medical and humanitarian needs, particularly in climate hot spots. The authors share first-hand perspectives on the humanitarian response to climate related migration in Bangladesh, heatwaves and heat-related illness and death in Pakistan, as well as to malaria and flooding in Niger. Other snapshots shed light on the benefits of integrating meteorological and climate anticipation in humanitarian response, and how medical teams adapted the cholera vaccination strategy in Malawi to protect a fishermen community in a lakeside area affected by climatic changes and thus particularly prone to cholera outbreaks.
The report also draws from diverse experiences to show how the dual crises of COVID-19 and climate crises are outstripping humanitarian capacity, warning how the global political response to COVID-19 also presents worrying trends – which may also unfold in the response to climate change.
Finally, the brief shares how MSF is learning to adapt health and humanitarian responses in light of climate change, as well as working to reduce the organization's environmental footprint.  
"We are a medical humanitarian organization caring for people's lives - as such, planetary and human health cannot be disconnected as the health of a person is influenced by the environment where she/he lives. As a medic I need to care for my patient and to do so I cannot give him/her his medicine in a glass of contaminated water. Therefore, I must make all efforts to at the very least not contribute to that contamination in whatever form." says Dr. Monica Rull, Medical Director for MSF.
Cascading global crises: A call for a radically inclusive, equitable and innovative response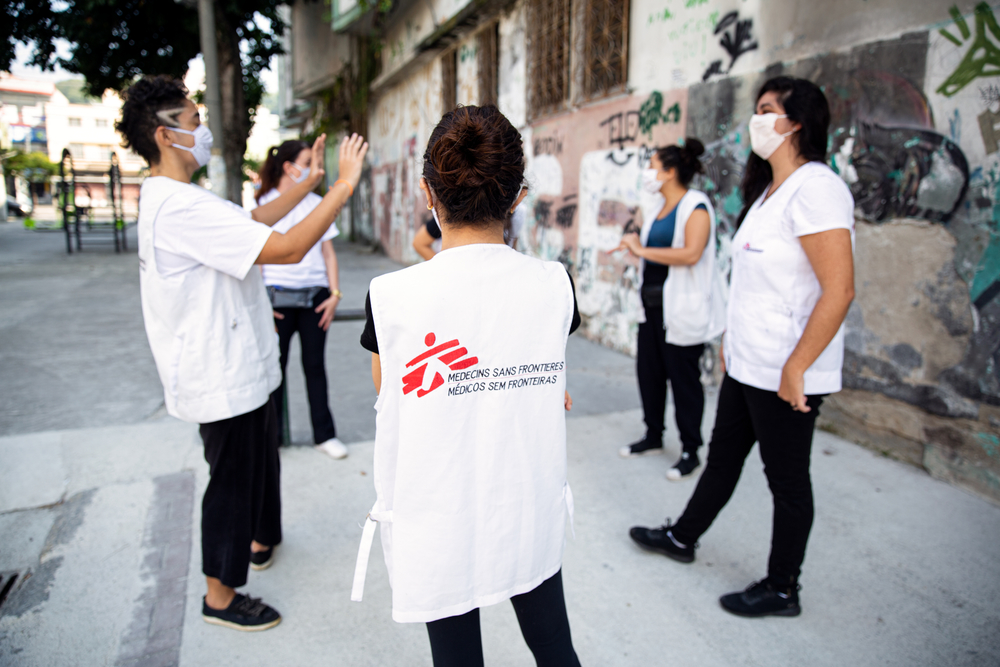 A review on COVID-19, climate crisis and systemic inequality. 
COVID-19 continues to affect millions and distress healthcare and social services, the ongoing humanitarian response and the global economy. In many places where MSF works, such as in Yemen, COVID-19 is bringing already-fragile health systems to their knees. A devastating pattern everywhere that MSF sees too is the new coronavirus is hitting marginalized and excluded peoples the hardest.
The pandemic also dovetails with the global protests against systemic racism and violence that first erupted in the U.S. on May 26, 2020, after George Floyd was killed by the police and also in response to other cases of recent and historic structural violence. In the U.S., where MSF operates for the first time ever, Black and Hispanic/Latino groups are dying disproportionately from COVID-19[1] and already face health disparities.
By Nora Dettmer, Advocacy Project Manager, MSF Germany and Carol Devine, Humanitarian Affairs Advisor MSF Canada and Lead, Climate-Smart MSF Transformational Investment Capacity project.​
'A world in flux': A Canadian aid worker on the humanitarian challenges posed by climate change
Sandra Smiley is a Canadian who works with Doctors Without Borders/Médecins Sans Frontières (MSF) as an advocacy officer. In the blog excerpt below, she elaborates on how participating in a recent climate strike in Vancouver made her reflect on her most recent posting with MSF in Democratic Republic of Congo (DRC). 
By Sandra Smiley
The Vancouver climate strike was one of hundreds organized by young people in cities across the globe this autumn. It was so big, so loud, so impressive to see, it was as if the whole world had come out to march.
As I walked through my city that Friday, protest songs ringing in my ears, I thought of those whose voices might not be heard making a distressed call for action – those for whom climate change is one existential threat among many.
My thoughts travelled back to the Democratic Republic of Congo.

Climate emergency: A humanitarian call to action
In September 2019, Avril Benoît, the Executive Director of MSF USA, wrote an article in advance of the UN Climate Action Summit about health and humanitarian needs related to climate change and the environmental degradation that MSF teams are already witnessing on the ground, especially in communities that are already vulnerable.
"We saw this coming," she writes. "As humanitarians, our risk assessments in different parts of the world have always factored in the potential for extreme weather events and the spread of vector-borne diseases, of drought, desertification, and mass displacement. Emergency first responders like us work up scenarios for interventions and gain experience each time we put our planning to the test in real crises."
"As a medical humanitarian organization that works with some of the most vulnerable communities in climate hotspots, Doctors Without Borders/Médecins Sans Frontières (MSF) teams are responding to the kinds of public health challenges that threaten to increase in number and severity without urgent action to reduce carbon emissions. We are facing a climate emergency, with devastating consequences for global health and humanitarian needs. Poor and marginalized communities already suffer the worst consequences of climate change, and are at greatest risk of future harm."
Read the full article:
Climate emergency: A humanitarian call to action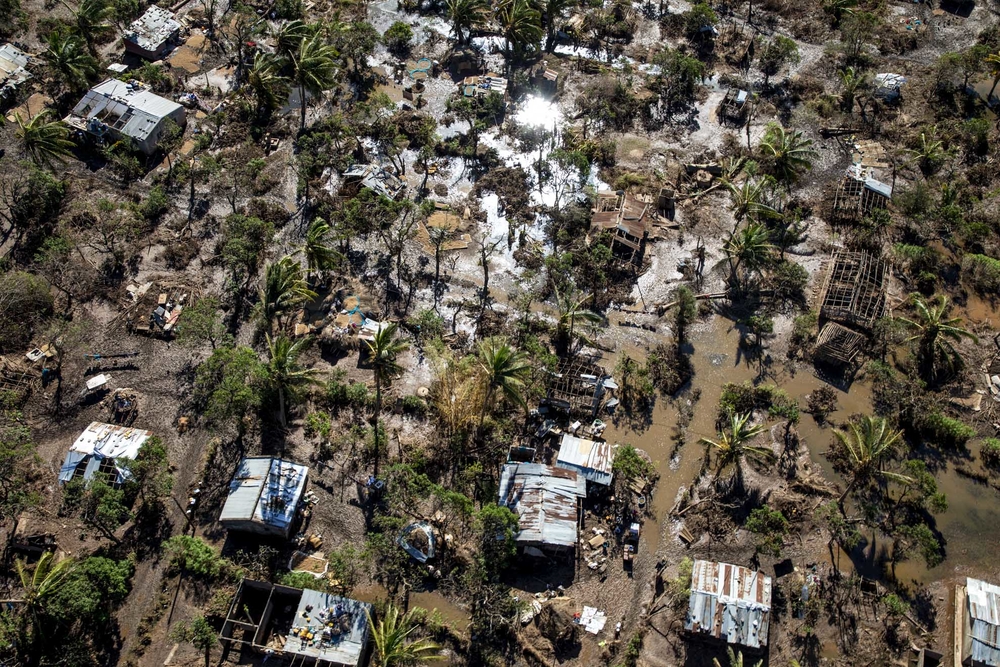 'It is the most vulnerable who suffer': Why climate change is a global health and humanitarian concern
The research is clear: the temperature of the earth is increasing, and it is human activity that is behind the warming. The devastating consequences of the warmer climate are no longer tomorrow's problem – they are here now. But what does this have to do with medical humanitarian work?
"It is becoming increasingly clear that the changed climate has a negative impact on human health. Epidemics are increasing, both in number and in scope. Seasonal diseases appear irregularly. Countries are affected by diseases that have not been there for a long time and for which they are therefore not prepared," says Carol Devine, Humanitarian Advisor at MSF Canada, who also doing research on global health at the York University in Toronto.

Climate Change and Health: An MSF Canada report on the urgent new frontier for humanitarianism
In November 2018, co-authors working across MSF and the globe contributed a briefing paper as part of the Lancet Countdown: Tracking Progress on Health and Climate Change 2018 report, seeking to share publicly and within the MSF movement some of MSF's on-the-ground experience treating vulnerable people in regions where climate change exacerbates health and humanitarian issues and crises.
The brief, Climate Change and Health: An Urgent New Frontier for Humanitarianism, identifies major areas at the nexus of climate change and global health where new policies and approaches are needed and further research is required.
It is part of growing efforts across the MSF movement to reconcile the conditions we witness while working on the front lines of humanitarian emergencies with research already being done on the impact of climate change on global health.
Read the MSF Canada report:
Climate Change and Health: An urgent new frontier for humanitarianism

A crisis in the making: MSF and the global health impact of climate change
In the summer 2018 issue of Dispatches, the MSF Canada magazine, humanitarian affairs advisor Carol Devine and Sarah Lamb, project coordinator for MSF's Sharing Incident Memory and Mitigation project, argued that MSF needs to accelerate preparations for the impact that climate change will have on our humanitarian medical operations around the world.
By Carol Devine and Sarah Lamb
Why should an emergency medical organization be concerned about climate change?
Doctors Without Borders/Médecins Sans Frontières (MSF) exists to provide medical assistance to people affected by conflict, epidemics, disasters or exclusion. Our purpose is not to address all the underlying causes of these crises ourselves, but to respond to the urgent health and humanitarian needs they create.
At first glance, it may seem like climate change, a complex and long-term phenomenon, lies beyond that scope of MSF's activities. But in addition to responding to crises, MSF also bears witness to the direct and indirect impacts they have on the well-being of the patients we serve. This allows us to call attention to the challenges those patients and their communities face, and to better prepare for how to respond.
It is now becoming increasingly clear that changes to the climate and ecosystems in many of the places we work are creating new and increasing threats to the health of the people who live there, many of whom are already highly vulnerable and in need of care. Our medical teams are seeing these effects in many of the nearly 70 countries we operate in: from the impact of water scarcity in conflict zones such as Syria and Iraq, to food insecurity in places like Africa's Sahel region or worsening malaria outbreaks in countries around the world.
"Climate change is primarily affecting the vulnerable populations in developing countries that we serve," says Patricia Schwerdtle, a Registered Nurse who worked with MSF in South Sudan. "The health needs our team was addressing were  climate sensitive diseases such as malnutrition, malaria, diarrheal disease and Kala Azar."
Climate and health: A dangerous link
According to a report issued last year by The Lancet, hundreds of millions of people are already experiencing negative health impacts as a result of climate change, including 422 million people in 30 countries who are undernourished as a result of climate-related failures in food production. Pollution is now the largest environmental cause of disease and death in the world today — three times more than from HIV/AIDS, TB and malaria combined. The majority of deaths related to climate change also occur in poor countries, which are less able to respond to increased needs or react to changing circumstances.
That is why, in 2016, MSF began taking deliberate steps to understand the specific impact these changes will have on our humanitarian medical action — not only on the health of people in highly vulnerable places, who are most at risk from changes to the environment, but on our own ability to respond to and alleviate their suffering. We started with a question: Is MSF sufficiently responsive to and prepared for the current and future health consequences of climate change and environmental degradation?
A survey undertaken by MSF Canada last year to help answer that question showed that MSF has already been actively responding to the impact of climate change. In the early 2000s, we launched programs aimed at alleviating the health burden of environmental degradation around the rapidly-drying Aral Sea in Uzbekistan, and in 2010 we began treating lead poisoning caused by artisanal mining in Zamfara, Nigeria, which had been making people lethally ill, especially children. More recently, MSF has been doing research on environmental and social health impacts in Kyrgyzstan and South Africa, and their links to the extraction of natural resources. In one of the world's most disaster-prone areas, South-East Asia and the Pacific regions, MSF is developing an application to improve preparedness and response to extreme weather events and disasters. "As weather-related disasters are increasing due to climate change, we need to keep a closer eye on vulnerable regions," says Lucy Guenning, the project's manager at MSF's office in Hong Kong. "Governments are not yet equipped to respond, and MSF needs to bridge the gap of climate change's impacts."
A crisis in the making: MSF and the global health impact of climate change, by Carol Devine and Sarah Lamb in Dispatches, the MSF Canada magazine