Ebola virus disease first appeared in 1976. One of the world's most deadly diseases, Ebola has a high mortality rate. While Ebola is a fragile virus that can be easily killed with heat, bleach, chlorine and even soap, it is easily transmitted through close contact – leading to rapidly growing outbreaks that are difficult to contain.
DRC: Responding to the new Ebola outbreak in Équateur province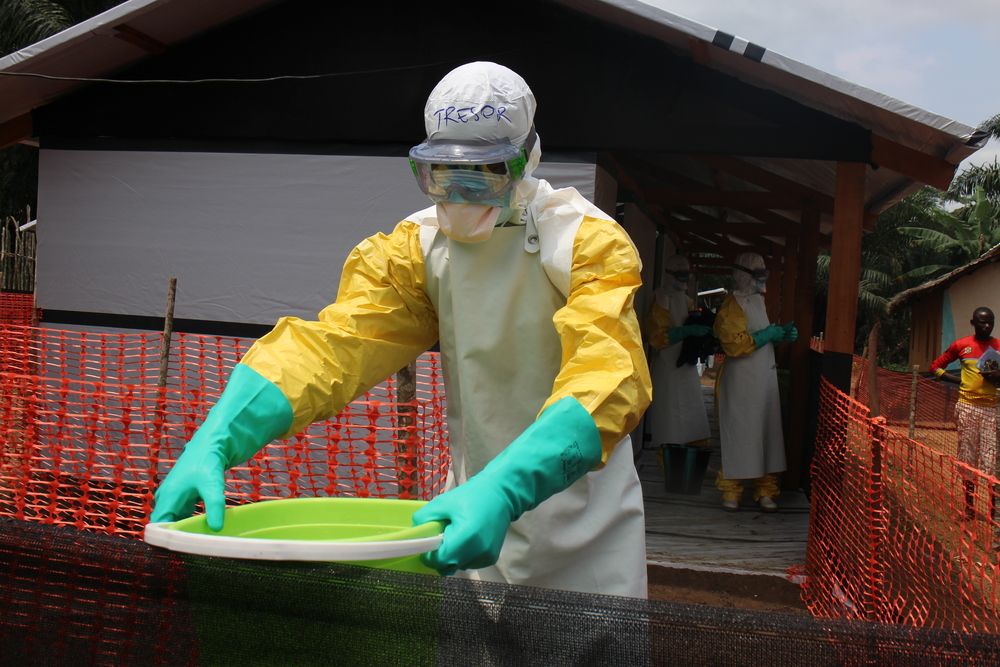 Declared while DRC was still grappling with the tenth Ebola epidemic in the country's northeast, and amidst the COVID-19 pandemic, this new Ebola outbreak has already spread to 11 health zones in the province, in a very hard-to-reach region where some villages are only accessible by river.
While the response to this new Ebola epidemic does not face the kind of security challenges that affected the response to the tenth Ebola outbreak between August 2018 and June 2020, the area nevertheless poses significant logistical challenges.
Équateur province is four times the size of Belgium, with some health areas only accessible by river using canoes or after hours of difficult transport by rough roads through the forest. Only one helicopter is available to humanitarian organizations to move around the region.
Ebola: World's second-worst outbreak nears end in DRC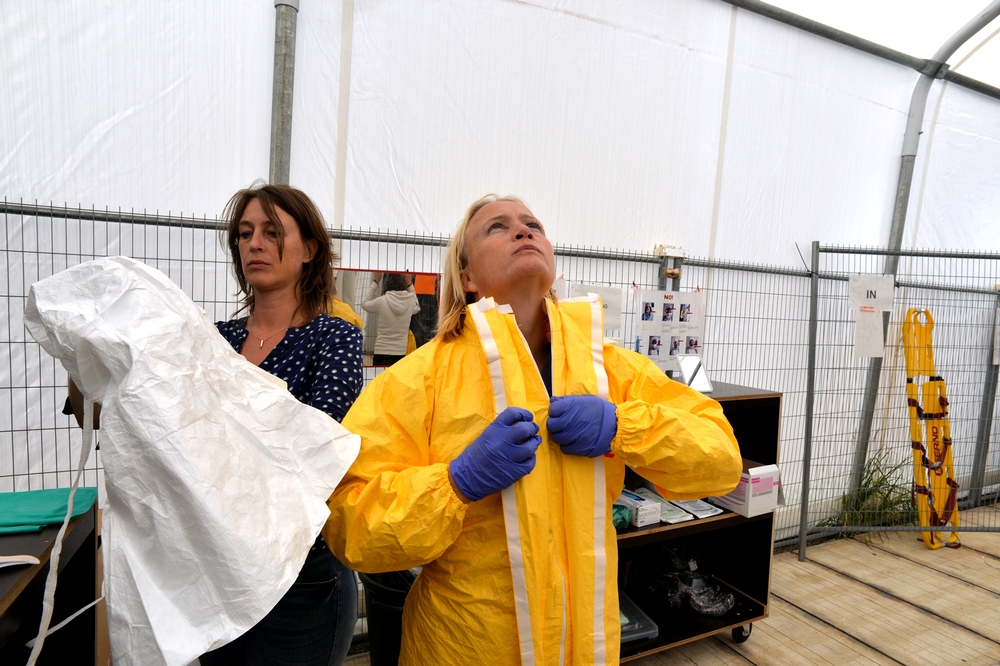 By Karline Kleijer, Doctors Without Borders/Médecins Sans Frontières (MSF) Head of Emergencies
Today as the world is focused on the Corona Virus pandemic, the world's second-worst Ebola outbreak is finally nearing its end.
Over the past months the number of Ebola cases finally dwindled. Having lasted over 18 months and resulting in the deaths of over 2,250 people, we are now in a countdown to the end, with the last confirmed Ebola patient released from treatment in early March.
Yet despite relief that this outbreak might finally end soon, this is no time to celebrate. We cannot label the Ebola response a success.
A health system at risk of turmoil: The long shadow of the Ebola response
The small clinic of Metale at first glance resembles an outpost rather than a health centre. The MSF team refitted the interior of the wooden building and it now houses consultation spaces, several beds for patients, a maternity unit, a pharmacy and a laboratory. In a small, weathered building next door, the old maternity unit with a simple wooden delivery table is still in use.
Driving to Metale is a long journey through the rural countryside of Mabalako, and through the active Ebola transmission zone. It is here, in the health zone of Mabalako, that the outbreak started back in August 2018. Close to 400 people have been confirmed with the Ebola virus disease in this zone alone, and over 300 have died. As rain sets in, people walking between villages along the road cover their heads with banana leaves, and the narrow dirt-track quickly turns into a mud bath.
MSF calls for an international, independent committee for Ebola vaccination to overcome WHO's lack of transparency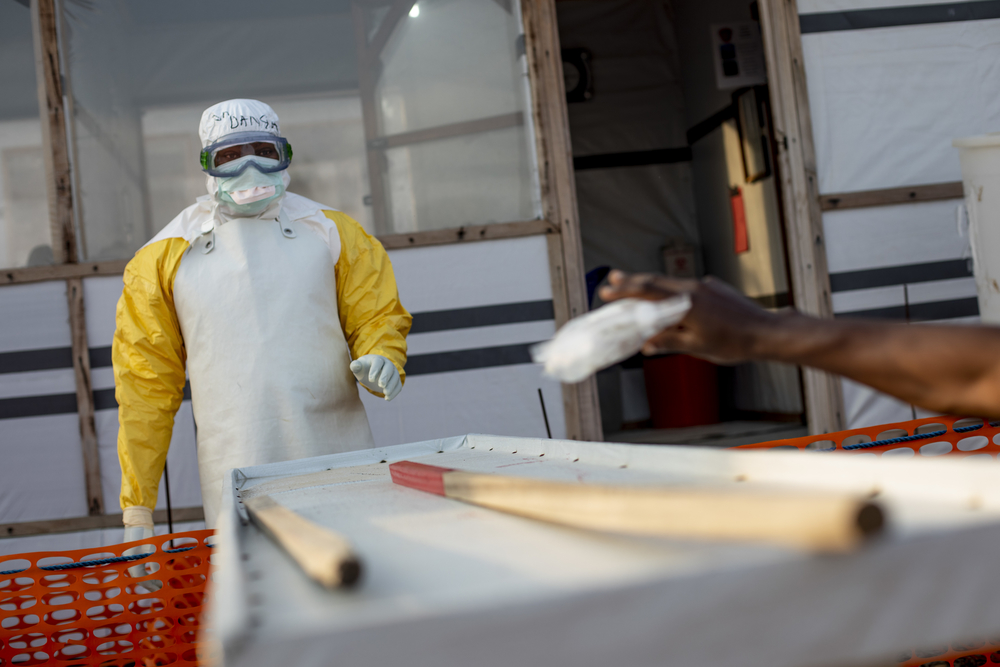 The prevalence of Ebola in Democratic Republic of Congo (DRC) is an ongoing epidemic. The current outbreak in DRC is the worst on record in the history of the country and has caused over 2,000 deaths. Doctors Without Borders/Médecins Sans Frontières (MSF) is calling for an independent committee to provide a transparent process for the vaccination. 
A significant issue is that the pace of vaccination activities is too slow and only a fraction of the eligible population is benefiting from this critical tool, says Doctors Without Borders/Médecins Sans Frontières (MSF). One reason is the lack of transparency concerning vaccine supply chains by the World Health Organization (WHO), which imposes strict limits on the number of doses deployed in the field. MSF urges for an independent committee to be formed to facilitate a more transparent management of the vaccination program.
Ebola outbreak in DRC: Crisis continues 
The current Ebola outbreak in Democratic Republic of Congo (DRC) is the worst on record in the country and the second-largest epidemic of the disease recorded anywhere. Almost a year after the declaration of this Ebola outbreak, more than 1,900 people have died from the virus.
The Ebola crisis in DRC is not under control - despite a massive international response, promising new vaccines and therapeutic drugs, and improvements in the medical management of the disease. Doctors Without Borders/Médecins Sans Frontières (MSF) has repeatedly stressed that the spread of this deadly virus cannot be stopped without building greater trust between those involved in the Ebola response and the local communities directly affected. The majority of Ebola cases have been reported in North Kivu and Ituri provinces, however new cases continue to emerge in other areas, indicating that the epidemic is yet to be contained.
Tenth Ebola outbreak in DRC still rages, one year on
It's one year on since the tenth outbreak of Ebola in the Democratic Republic of Congowas declared. The epidemic, which has become the second-largest recorded anywhere and the worst on record in DRC, is still raging.  
The current outbreak was declared on August 1, 2018, just days after the official end of DRC's ninth outbreak of Ebola, in the country's northwestern Equateur province.
Trish Newport, deputy manager of MSF's Ebola programmes in the DRC, reflects on the outbreak and the response over the past year.


Ebola: the response struggling one year into the outbreak
As the worst Ebola outbreak in DRC's history approaches its second year, the number of new Ebola cases recorded each week is hovering near its highest levels since the beginning of the epidemic. In July, between 80 and 100 people were diagnosed with the disease every week. The outbreak is also continuing to spread geographically. Uganda saw its first Ebola patients in June, though they had travelled from DRC, while Goma, a city of 1.5 million people, recorded its second case just this week.
Following the declaration of the epidemic on August 1 2018, a massive response was rapidly launched, aided by tools that were either unavailable or severely limited in previous Ebola outbreaks, such as an investigational vaccine and developmental treatments.
Despite this, the outbreak seems headed in the wrong direction and in July was declared a Public Health Emergency of International Concern (PHEIC). Since last August, Ebola has infected over 2,600 people, and killed 1,700 in DRC.
Ebola outbreak in Democratic Republic of Congo is a public health emergency of international concern
July 2019 - The signs are clear: people are still dying in their communities, health workers are still infected, and transmission is still going on. The epidemic is not under control and we need a change of gear: but this should not be about movement restrictions or the use of coercion on  the affected population. Communities and patients need to be at the centre of the response, they need to be active participants.  MSF has experienced first hand how difficult it is to respond to this epidemic.  We need to take stock of what is working and what is not working. In a context where contact tracing is not working fully, and all affected people are not reached, a large scale approach is needed for prevention, this means better access to vaccination for the population to reduce transmission.
Uganda: MSF teams intervene to respond to Ebola outbreak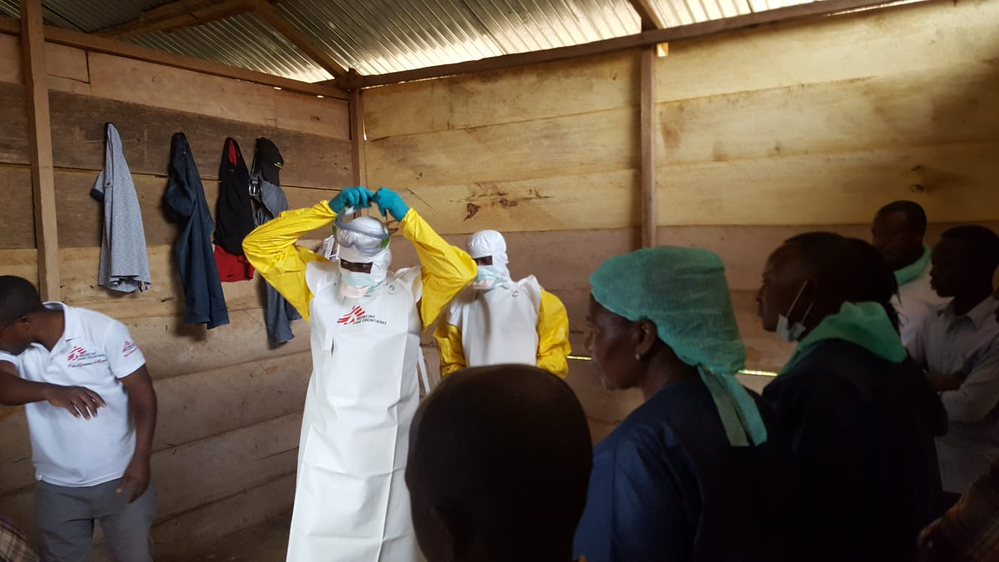 A Doctors Without Borders/Médecins Sans Frontières (MSF) medical and logistical team is currently in Kasese district, Uganda, where three cases of Ebola have been declared since June 11. All of them are members of the same family who was traveling from the Democratic Republic of Congo. Two of them sadly died, while the third case and two other members of the family who are showing symptoms consistent with the disease have been repatriated to DRC.
The MSF team is supporting Ugandan health authorities in the management of people who have been in contact with confirmed Ebola patients and show symptoms of the disease. Close monitoring is needed while waiting to confirm whether they are infected.
Ebola outbreak in Democratic Republic of Congo
As of March 7, more than seven months since the beginning of the current Ebola outbreak in the Democratic Republic of Congo (DRC), there have been 907 Ebola cases (841 confirmed and 66 probable), and 569 people have died. It is the second Ebola outbreak to affect DRC in less than a year.
Following the suspension of activities following attacks on Ebola treatment centres in Katwa and Butembo, MSF has maintained Ebola-related activities in the North Kivu towns of Kayna and Lubéru, as well as the management of two Ebola transit  facilities in Ituri province. In the city of Goma, MSF has been supporting emergency preparedness by reinforcing the surveillance system and ensuring there is adequate capacity to manage suspected cases. MSF has also been facilitating a randomized control trial for four potential new Ebola medicines.
Efforts to contain the outbreak have been made even more challenging due to political unrest in DRC, and the fact that response efforts are taking place in areas beset by active conflict.
Watch: Battling Ebola in a conflict zone
Read more here, or follow @MSFcongo on Twitter for more details.
​
March 2019: Attacks on Ebola treatment centres show significant challenges of response to second recent outbreak in Democratic Republic of Congo
On the night of February 27, 2019, a group of unidentified assailants set fire to an Ebola treatment centre in the city of Butembo, in Democratic Republic of Congo (DRC). No staff or patients were immediately harmed, but medical care was violently interrupted for the facility's 57 patients, of whom 15 were confirmed to have Ebola.
The attack came three days after a similar assault on another Ebola treatment centre in the nearby district of Katwa. In that incident, a caretaker for one of the facility's patients was killed, allegedly while trying to flee.
Both facilities were run by the DRC's Ministry of Health and supported by Doctors Without Borders/Médecins Sans Frontières (MSF). On February 28, MSF announced the suspension of medical activities.
"We are extremely saddened by these attacks on our medical facilities. Not only did they endanger the lives of our staff members, they also endangered the most vulnerable people at the heart of our response: the patients," said MSF emergency desk manager Hugues Robert.
"In light of these two violent incidents, we have no choice but to suspend our activities until further notice. As medical responders, it is very painful to have to leave behind patients, their families and other members of the community at such a critical time in the Ebola response."
A deadly outbreak amid conflict and mistrust
The Ebola outbreak currently afflicting DRC is the largest in the country's history, and is taking place within an increasingly worrisome climate of deepening community mistrust. The medical response being carried out by the World Health Organization, the DRC Ministry of Health and other health organizations — including MSF — has so far failed to bring the epidemic under control.
"We have a striking contradiction," said MSF's International President, Canadian physician Dr. Joanne Liu, last week. "On the one hand, a rapid and large outbreak response with new medical tools such as vaccines, and treatments that show promising outcomes when people [seek treatment]."
"On the other hand, people with Ebola are dying in their communities, and do not trust the Ebola response enough to come forward."
MSF Pulse: Ebola in Democratic Republic of Congo
Right now, our medical teams are on the ground in Democratic Republic of Congo responding to an outbreak of Ebola. In this episode of MSF Pulse, we look at what Ebola is, how it spreads and what we're doing to respond to the current outbreak.
Ebola Facts
Ebola virus disease first appeared in 1976. One of the world's most deadly diseases, Ebola has a high mortality rate. While Ebola is a fragile virus that can be easily killed with heat, bleach, chlorine and even soap, it is easily transmitted through close contact – leading to rapidly growing outbreaks that are difficult to contain.
TRANSMISSION: 
The Ebola virus is introduced into the human population through close contact with the blood, secretions, organs or other bodily fluids of infected animals; human-to-human transmission occurs through direct contact with blood, bodily secretions, organs and sick people.
SIGNS AND SYMPTOMS: 
Sudden onset of fever, fatigue, muscle pain, headache and sore throat is followed by vomiting, diarrhea, rash, symptoms of impaired kidney and liver function, and in some cases both internal and external bleeding.
DIAGNOSIS: 
On clinical basis, Ebola can be difficult to distinguish from a number of other infectious diseases; confirmation can be made using a number of different laboratory tests.
TREATMENT: 
There are no proven treatments or licensed vaccines for Ebola; however two vaccines are undergoing human safety studies.
PREVENTION AND CONTROL: 
Outbreak control requires a package of interventions, including case management, surveillance and contact tracing, laboratory services, safe burials and social mobilization.
The 2014-2015 Ebola Outbreak in West Africa
The largest outbreak of Ebola in history was officially declared on March 22 2014 in Guinea. It claimed more than 11,300 lives in six affected countries in West Africa (Guinea, Liberia, Mali, Nigeria, Senegal and Sierra Leone), including over 500 healthcare staff – more than all previous outbreaks combined. Earlier outbreaks of Ebola occurred in remote villages in Central Africa, but the outbreak that began in 2014 included major urban areas as well, making contact tracing and control of transmission more difficult. The outbreak and its impact were exacerbated by high mobility of the population, weak health systems and lack of infrastructure and human resources in Guinea, Liberia and Sierra Leone, the three worst-affected countries.
On January 14, 2016, Liberia celebrated 42 days without any new Ebola infections, effectively marking the end of the Ebola outbreak in West Africa. The outbreak officially ended in June 2016.
The international medical humanitarian organization Doctors Without Borders/ Médecins Sans Frontières (MSF) now calls on the global health community to draw on lessons learned in order to be better prepared for future outbreaks, such as the one currently ongoing in Democratic Republic of the Congo (DRC). MSF is continuing its Ebola activities in Liberia, Sierra Leone and Guinea by running support clinics for Ebola survivors.
Doctors Without Borders/Médecins Sans Frontières (MSF) is an international humanitarian medical organization that delivers emergency care to people affected by violence, disease, disaster or neglect in more than 70 countries around the world. We rely almost entirely on financial support from private, individual donors, rather than from governments or large institutions, which allows us to remain committed to the core humanitarian principles of neutrality and impartiality — and to always act quickly, effectively and independently when emergencies occur.