More than one million Rohingya people have fled violence and persecution in Myanmar — including nearly 700,000 who crossed the border into Cox's Bazar, Bangladesh,  following targeted attacks against their communities in August 2017.
Living conditions in the refugee camps in Cox's Bazar, Bangladesh are dire. Many people lack access to clean water, sanitation, health care and shelter. Outbreaks of multiple vaccine-preventable diseases are springing up among the population. MSF remains present on the ground in Cox's Bazar, delivering urgently needed medical care and working to prevent the spread of disease, as we continue to respond to one of the world's most difficult humanitarian crises.
Living in limbo: Rohingya refugees in Bangladesh three years after the main exodus

"Spending our lives in the camps is difficult; the area is small and there is no space for the children to play," says Abu Siddik. He lives in one of the camps in the Cox's Bazar district of south-eastern Bangladesh, where around 860,000 Rohingya refugees are crammed into just 26 square kilometres (km) of land.
"I left Myanmar because my house was burnt down. They were killing and torturing everyone, and harassing our women. It was not safe."
Siddik is referring to the 'clearance operations' launched by Myanmar's security forces which began in August 2017. They drove more than 700,000 Rohingya from Rakhine state over the border into Bangladesh. These refugees joined 200,000 others who had fled previous waves of violence.
Before escaping many experienced or witnessed horrific violence. Their friends and family members were killed, and their homes were destroyed.
COVID-19: Five challenges in Bangladesh and the Rohingya refugee camps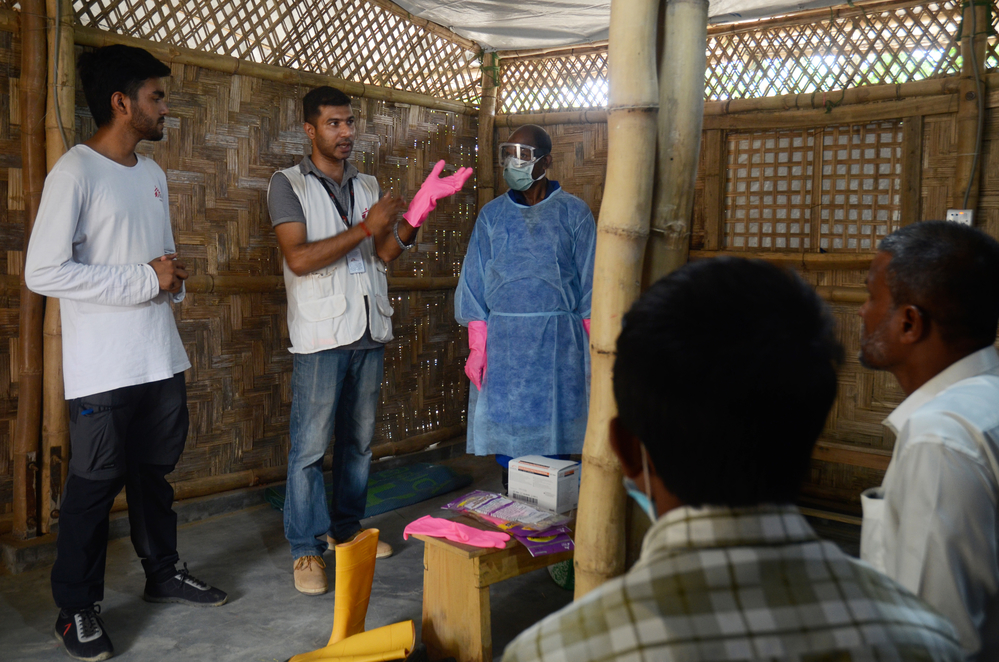 One of the most densely populated countries in the world, Bangladesh also houses the world's largest refugee camp. Across Cox´s Bazar, nearly one million Rohingya refugees live in overcrowded, unsanitary conditions. As COVID-19 spreads through Bangladesh, these are the five key challenges to overcome.
Bangladesh: MSF tackles measles outbreak in Rohingya refugee camps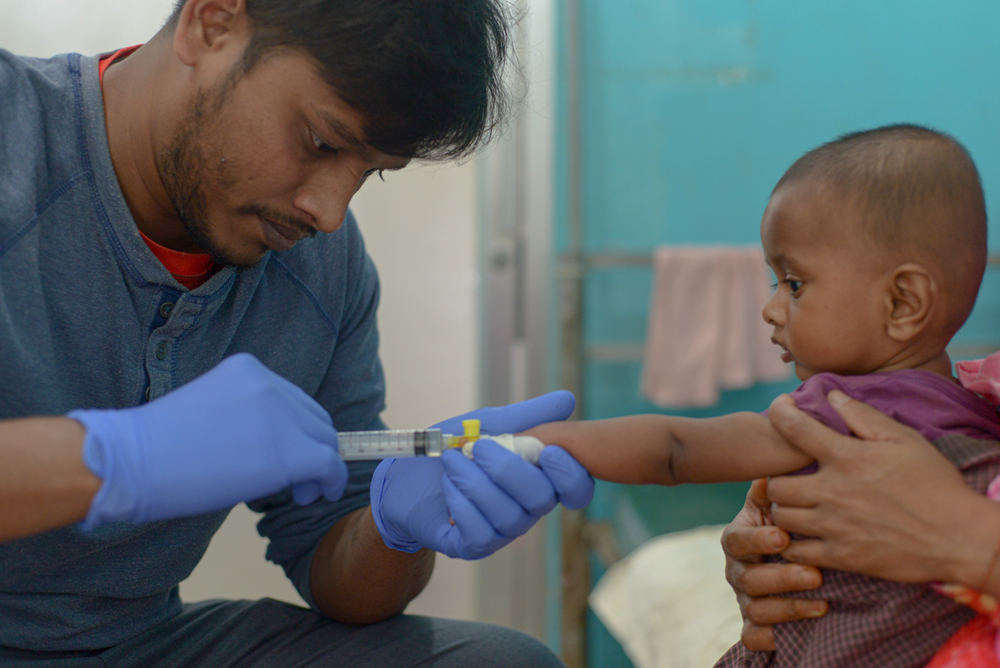 In a pink room decorated with white flowers at Doctors Without Borders/Médecins Sans Frontières' (MSF) Kutupalong field hospital in Bangladesh, a woman lies curled around her sleeping child. Next to her, a young mother cradles a baby whilst her other daughter plays with a balloon. Rows of beds stretch in either direction, mothers and children sitting or lying quietly in every one. It could be a peaceful scene, except for the intravenous lines snaking up from each child's arm to a saline drip. 
This is an isolation ward and all these children are critically ill with measles. Many have additional complications, such as pneumonia and malnutrition. The nurse checks vital signs every hour. For a ward full of young children, it is eerily silent – most of them are semi-conscious.
Providing healthcare to vulnerable Rohingya refugee communities in Malaysia
In 2016, 50-year-old Shor Muluk embarked on a treacherous journey to Malaysia, fleeing violence against the Rohingya in Rakhine State, Myanmar. Leaving his wife and three children behind, he paid smugglers to transport him to Thailand. He spent seven days languishing on a crowded boat before being taken to a camp deep in the Thai mountains. There, Rohingya were beaten until their relatives sent the smugglers more money. Those whose families could not pay were killed, their bodies removed in the dead of night.
Having run out of money and fearing execution, Shor Muluk planned his escape. He waited until nightfall then fled into the jungle, spending weeks walking without knowing where he was headed. Somehow, he reached Malaysia and was lucky enough to be taken in by a Rohingya family. He worked in construction until the leg injuries he sustained during his beatings in Thailand became too much to bear. "I don't have enough money to pay for housing," explains Shor. Now reliant on handouts from others, he says: "I sleep where I can … I survive as best I can."
Shor Muluk is just one of 177,690 registered refugees and asylum seekers in Malaysia, the vast majority of whom are from Myanmar. Approximately 97,750 are Rohingya refugees, making them the largest refugee group in the country. 
A Rohingya refugee in Bangladesh: "The collective fate of the Rohingya is in our hands"
Metun (name changed on request) is a Rohingya refugee in the Kutupalong-Balukhali megacamp in Cox's Bazar, Bangladesh. He previously lived in Rakhine, working for NGOs there. He now volunteers with NGOs in the sprawling refugee camps in Cox's Bazar. Here he shares his hopes and fears with MSF.
"I've been in Bangladesh since 11 September 2017 – I remember the exact date we arrived. I fled with my wife and four children.
We were always threatened in Rakhine. Compared to Myanmar, Bangladesh still feels like paradise. But the conditions here are inhumane. You have to stay in a small room, the toilets are shared, and you live under a plastic sheet with no ventilation. You aren't allowed to go anywhere, and you can't work like Bangladeshi people.  
The Rohingya in Bangladesh: "The population has been completely suspended in time"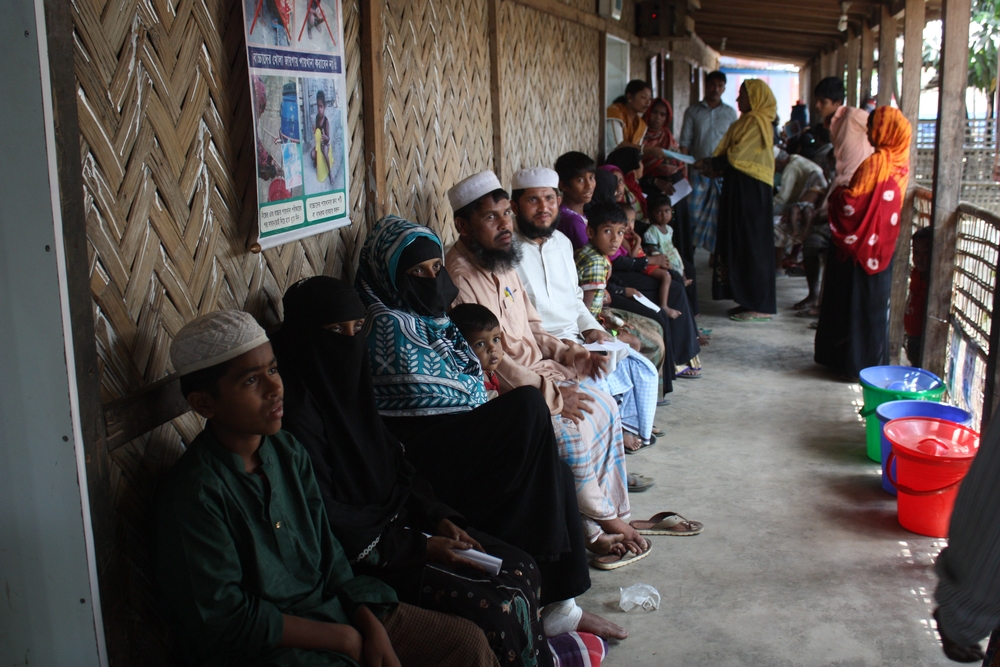 First person piece by Arunn Jegan, Emergency Coordinator for MSF Bangladesh 
"I first came to Cox's Bazar in June 2017, at a time when thousands of Rohingya were already in Bangladesh from previous waves of targeted violence. Even then, the needs were massive. I returned as project coordinator that August, as hundreds of thousands more people arrived. It was obvious the Rohingya were fleeing violence – in one two-week period between August and September 2017, we watched pillars of smoke, most likely from houses and villages being burned, at several points across the border. At the border crossings, we saw Rohingya arriving with burns, gunshots, lacerations, and smoke asphyxiation. The trauma was visible on people's faces and bodies...
A Rohingya in Central Rakhine, Myanmar: "We hold our frustration inside because we cannot speak out"
Suleiman is an MSF watchman living in Nget Chaung village, central Rakhine State. He, along with 9,000 other Rohingya Muslims here, is denied freedom of movement, forcibly confined to the village and the adjacent internment camp, with poor living conditions and very limited access to basic services. The restrictions on movement for the Rohingya in central Rakhine State followed outbreaks of violence between the Rohingya and Rakhine communities in 2012. Today, some 128,000 Rohingya and other Muslims are forcibly detained in camps or camp-like settings in Central Rakhine. Before these restrictions were imposed, Suleiman was a teacher, travelling to different townships and cities to provide English and Burmese classes in mosques.

Two Years On: No solutions in sight for the Rohingya
On 25 August 2017, a campaign of targeted violence by the Myanmar military was waged against the Rohingya in Rakhine State. This was not the first campaign targeting the Rohingya, but it was by far the largest, and combined with the pre-existing Rohingya refugee population from earlier waves of displacement, approximately 911,000 refugees are now in Bangladesh. MSF massively scaled up its operations response and also works with Rohingya in Malaysia as well as those who have remained in Rakhine, Myanmar.
Two years since the bloodshed, this update highlights the fears, hopes and daily reality of Rohingya people in three countries. From Myanmar to Bangladesh to Malaysia, the situation facing the Rohingya is the same: one of disenfranchisement, lack of recognition, and great uncertainty.

One year after their forced exodus from Myanmar, Rohingya refugees remain trapped in dire conditions
Since August 2017, when over 700,000 Rohingya were forced to flee from Myanmar into Bangladesh , the denial of their legal status, coupled with unacceptable living conditions in haphazard makeshift camps, continues to trap refugees in a cycle of suffering and poor health.
In the 12 months since, MSF has provided over 656,200 consultations, equivalent to more than two-thirds of Rohingya refugees, in 19 health facilities or mobile clinics.
At first, more than half of MSF's patients were treated for violence-related injuries, but other health concerns soon emerged that were linked to the overcrowded and unhygienic conditions in the camps.
"It is unacceptable that watery diarrhea remains one of the biggest health issues we see in the camps," says Pavlo Kolovos, MSF head of mission in Bangladesh. "The infrastructure to meet even the most basic needs of the population is still not in place, and that seriously affects people's wellbeing."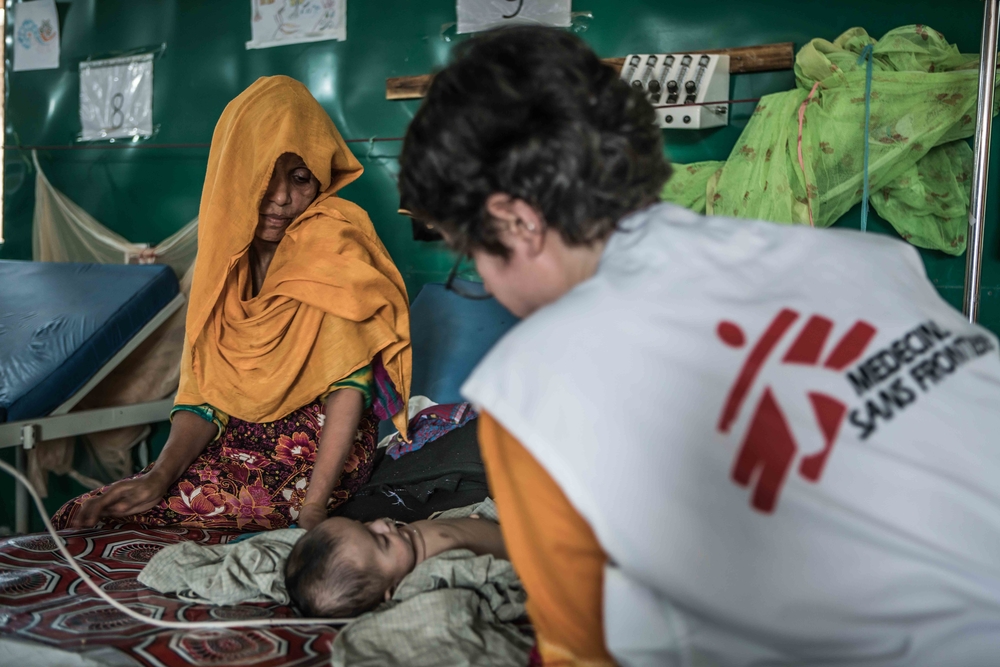 MSF and the Rohingya crisis: From the Summer 2018 issue of Dispatches, the MSF Canada magazine
In July 2018, MSF Canada executive director Joe Belliveau visited Cox's Bazar, Bangladesh, to see first-hand MSF's response to the Rohingya refugee crisis. Belliveau had himself previously managed MSF's field operations in both Bangladesh and Myanmar, so it was a return to a context he was familiar with and an opportunity to reassess the role of crisis response as part of MSF's humanitarian medical action.
In the Summer 2018 issue of Dispatches, the MSF Canada magazine, Belliveau shares some of his experiences, alongside those of Jonathan Skillen, a Canadian from Barrie, Ontario, currently working as medical team leader at MSF's Balukhali clinic for Rohingya refugees in Cox's Bazar, and Susan Phillips, a Canadian nurse working at MSF's Kutupalong clinic.
Summary: MSF medical action for Rohingya refugees in Cox's Bazar, Bangladesh
Opinion: MSF Canada director Joe Belliveau on why Canada should play a lead role in resolving the Rohingya refugee crisis
In June, as Canada played host to a gathering of G7 leaders at a summit in Quebec, MSF Canada executive director Joe Belliveau published an op-ed in the Ottawa Citizen calling on Canada to use its leadership to spur international action in response to the ongoing Rohingya refugee crisis on the border between Bangladesh and Myanmar. 
"It is essential that Canada demonstrate leadership and use this opportunity to obtain not just vague statements but real commitment from some of the world's most influential states to a consolidated and resolute international response to the Rohingya crisis.
The status quo – perpetual statelessness – is not an option. And humanitarian aid cannot substitute for a political solution. The only way forward is for the G7 and other states to recognize and fight for the Rohingyas' shared humanity, the fact that they belong somewhere – and to take concrete steps to make it possible for Rohingya children born today to have the chance for a real and viable future."
Read Joe Belliveau's complete op-ed in the Ottawa Citizen
A new report from MSF summarizes in detail the testimony of Rohingya patients in Bangladesh who fled ethnic violence in Myanmar.
In the early hours of August 25, 2017, the Myanmar military launched "clearance operations" in Rakhine State, ostensibly in response to coordinated attacks by Rohingya armed groups on Border Guard Police outposts.
This resulted in an estimated 688,000 mainly Rohingya people from Rakhine State fleeing into neighbouring Bangladesh. The speed and scale of displacement resulted in a critical humanitarian emergency; together with previously displaced people, this took the total number of Rohingya in Bangladesh to more than 900,000.
In November 2017, MSF conducted a total of six health surveys in Cox's Bazar district which aimed at quantifying the current scale of the emergency by assessing factors including levels of mortality over time. Findings show that the Rohingya have been targeted, and are the clearest indication yet of the widespread violence that started on August 25. Now, MSF has released a report, "No One Was Left": Death and Violence Against the Rohingya in Rakhine State, Myanmar,  summarizing the health survey results and painting a picture of the violence that led to the Rohingya refugee crisis still taking place in Bangladesh.  
'This crisis is not over': MSF's emergency coordinator describes the situation in Bangladesh six months after the latest Rohingya influx began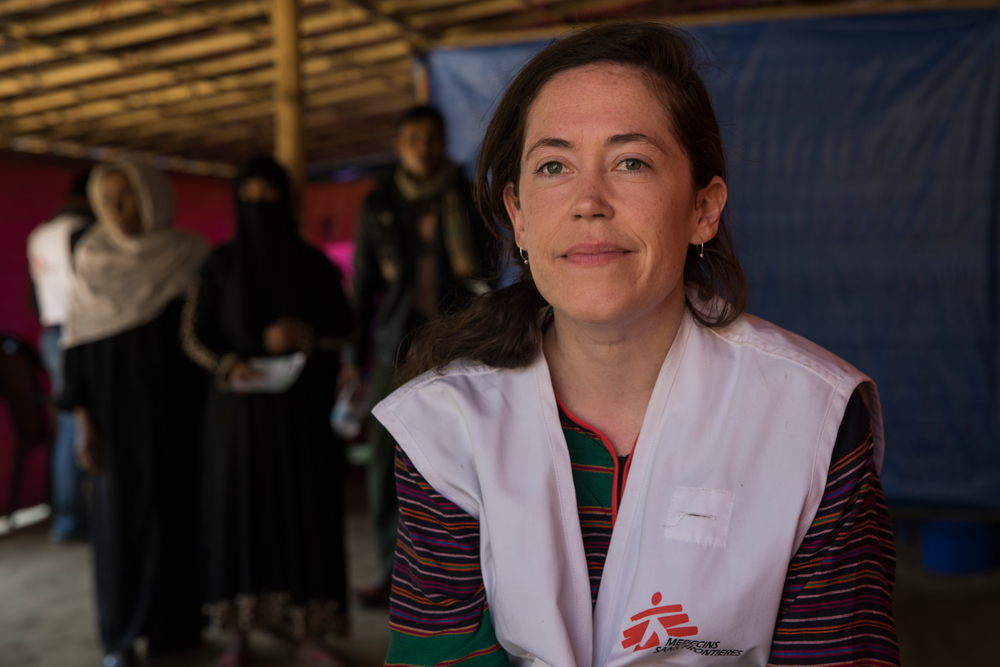 Kate Nolan is MSF's emergency coordinator in Bangladesh. She describes the challenges that remain on the border with Myanmar since violence in that country began driving hundreds of thousands of refugees in search of safety across the border.
"The thing I find most striking about this situation is its magnitude – the sheer number of people who have crossed the border in a short space of time, barely six months. In fact, people continue to arrive today."
"The refugees end up in densely crowded and overpopulated makeshift settlements in the Southern district of Cox's Bazar. Their shelters are mostly made of plastic and bamboo, packed closely together, and with inadequate water and sanitation conditions. As we see through our medical consultations in all the settlements, the Rohingya were already marginalised and excluded in Myanmar. They had very little or no access to healthcare and were not routinely vaccinated against communicable diseases, so their immunization coverage is very low. Our medics treat many people with diarrhea and respiratory tract infections – diseases related to the living conditions in the camps. We see wounds that have developed into serious infections after not being properly treated, and chronic diseases that have never been properly addressed."
"All these factors combined: the sheer size of the population, the densely crowded conditions, the inadequate shelter, and the apparently very low level of immunisation, create a perfect storm for the public health situation. I am concerned about fresh emergencies evolving within the current emergency. For example, the upcoming rainy season with the monsoon and tropical storms, in an area that is prone to heavy cyclones, presents an obvious greater potential for waterborne diseases such as acute watery diarrhea."
'We only survived by eating the leaves of the trees': One Rohingya woman's harrowing journey to flee violence in Myanmar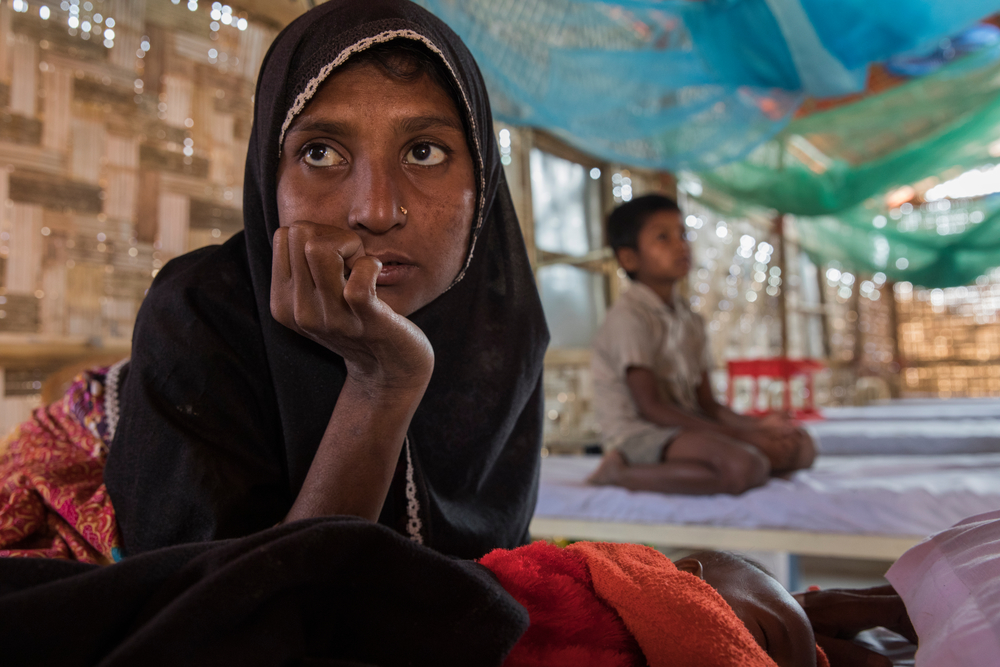 Humaira is a 25-year-old Rohingya refugee from Maungdaw district in Rakhine state. She arrived in Bangladesh in October 2017, after the violence reached her hometown. In late January 2018, she was found in a state of shock by an MSF outreach team in the Jamtoli makeshift settlement and brought to the Doctors Without Borders/Médecins Sans Frontières (MSF) primary healthcare centre there, where she is being treated.
"When the violence broke out, my husband was taken by the Myanmar military. I don't know whether he is dead or alive. They took us from our homes, burned them to the ground and beat us very badly. When we fled, I was already heavily pregnant. I left with my son and another woman, but lost contact with her during the journey. I couldn't take any belongings with me. We walked for several days through the forest. We were starving and only survived by eating the leaves of the trees. We slept in the bush. We finally reached the riverside and boarded a boat that would take us to Bangladesh."
Bangladesh: MSF surveys estimate that at least 6,700 Rohingya were killed during attacks in Myanmar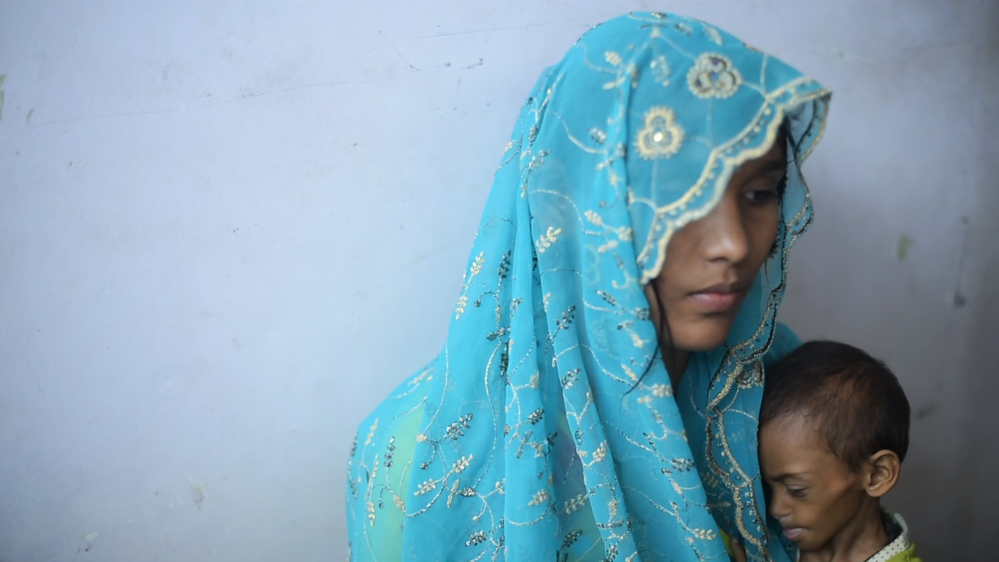 Surveys conducted by Doctors Without Borders/Médecins Sans Frontières (MSF) in refugee settlement camps in Bangladesh estimate that at least 9,000 Rohingya died in Myanmar, in Rakhine State, between August 25 and September 24.
As 71.7% of the reported deaths were caused by violence, at least 6,700 Rohingya, in the most conservative estimations, are estimated to have been killed, including at least 730 children below the age of 5 years.
The findings of MSF's surveys show that the Rohingya have been targeted, and are the clearest indication yet of the widespread violence that started on August 25 when the Myanmar military, police and local militias launched the latest "clearance operations" in Rakhine in response to attacks by the Arakan Rohingya Salvation Army. Since then, more than 688,000 Rohingya have fled from Myanmar into Bangladesh.
MSF President Dr. Joanne Liu on the Rohingya crisis in Bangladesh and Myanmar: 'People are in survival mode'

October 26, 2017 — Doctors Without Borders/Médecins Sans Frontières (MSF) International President Dr. Joanne Liu, a physician from Montreal, recently visited Cox's Bazar, Bangladesh, where a refugee crisis is unfolding after renewed violence in Rakhine State, Myanmar. On October 23, she spoke at a Pledging Conference for the Rohingya Refugee Crisis organized by UN agencies, and called for more organizations to prevent what she called a "public-health time-bomb."
"There are almost no services available and the vulnerability of people's living conditions is shocking," she says. "Whole families are living under plastic sheeting in muddy and flood-prone terrain. They have very few belongings, are vulnerable to attacks from elephants, and have no access to clean water, latrines, food or healthcare.
"It's a very fresh displacement and people are in survival mode, which you can clearly see in everybody's body language. People are taking each day as it comes, trying to secure the basics to get through the day. Currently the humanitarian response is quite scattered: plastic sheeting is handed out in one location, while bags of rice or water are distributed elsewhere."
Help us provide life-saving medical humanitarian relief. Donate online or call +1 800 982 7903 [Toll free].