Medical action
"The actions of Doctors Without Borders/Médecins Sans Frontières (MSF) are first and foremost medical."
This statement comes from the Chantilly Principles, which documents the fundamental values of the international MSF movement. Humanitarian medical action is the foundation on which MSF was built, and remains our core purpose as an organization. We deliver urgently needed healthcare to people who have been made vulnerable by conflict, crisis, disaster or neglect; our medical teams are on the ground in nearly 70 countries worldwide to provide care that can save lives, alleviate suffering and restore dignity to people in need. 
Last year, we provided 11,218,700 medical consultations; admitted 758,200 patients into our field hospitals; assisted with 309,500 births; performed 104,700 surgeries, and conducted 404,700 mental-health consultations.
Visit the MSF International Activity Report for more figures from MSF's lifesaving medical work
MSF provides medical care to millions of people caught in crises around the world. Our teams conduct independent evaluations to determine medical needs and assess what assistance to provide. Different criteria determine what we do, such as the magnitude of a given crisis, the levels of illness and mortality in the population, the severity of exclusion from healthcare, and the added value we can bring to the affected people. We regularly question the form, relevance and impact of our presence, taking into account what other organizations do.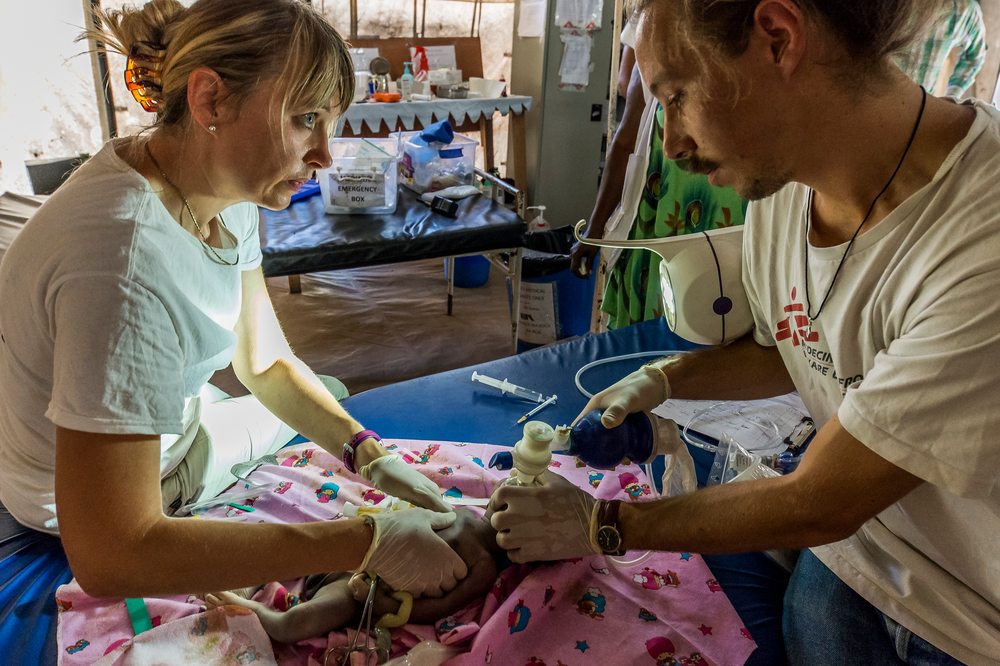 Emergency response
Rapid and effective response to emergencies is at the core of our work. If mortality rates soar in just a few weeks, the main challenge is to save as many lives as possible in as short a time. MSF keeps pre-packaged kits so that teams can offer rapid lifesaving assistance - from surgical kits, inflatable hospitals to cholera kits. Our cash reserves for emergencies means we can provide assistance quickly, when and where the need is greatest.
Medical care and innovation
Improving our medical practice is part and parcel of our ongoing activity. Medical guidelines for our teams are regularly updated to build on best practices. Our medical innovation has lead to significant improvements in the care delivered to people in crisis, beyond MSF. For example, changes to drug regimens for malaria treatment, the creation of cholera treatment centres for epidemic response, or the use of ready-to-use-foods and new treatment models to tackle malnutrition.
We attach the utmost importance to the quality of medicines used to treat patients. We strongly consider that any patient wherever he or she lives has the right to be treated with effective and safe medical products. We validate our medical supplies following a strict qualification scheme based on international quality standards.
Medical ethics
Every day, our teams deliver emergency medical aid to those who need it most. As we carry out this work, we are guided by the rules of medical ethics—particularly the duty to provide care without causing harm to individuals or groups. We're also committed to safeguarding our patients' rights to autonomy, confidentiality, and informed consent. We respect the dignity of our patients, which includes respect for their cultural and religious beliefs. In accordance with these principles, we endeavour to provide the best medical care possible to all patients. 
MSF sponsors or takes part in numerous research projects in the field. Results from several projects have had substantial impact on global health policy and benefited people served by MSF and beyond. As a result, research has become increasingly integral to our activities. We pay special attention to the ethical issues arising from the research in which we engage. This led to the the creation of an independent ethics review board in 2002 that evaluates all research proposals involving MSF.
Epicentre
Epicentre is an affiliate organization we set up in 1986 to provide epidemiological expertise to our field projects: investigating critical situations in the field, in particular population displacements and epidemics; carrying out research on behalf of MSF in the areas where we operate; and training medical personnel in epidemiological techniques.
From the Chantilly Principles, MSF's statement of values:
"Doctors Without Borders/ Médecins Sans Frontières (MSF) was founded to contribute to the protection of life and the alleviation of suffering out of respect for human dignity. MSF brings care to people in precarious situations and works towards helping them regain control over their future."
Medical Action First
"The actions of MSF are first and foremost medical. This primarily consists of providing curative and preventive care to people in danger, wherever they may be. In cases where this is not enough to ensure the survival of a population — as in some extreme emergencies — other means may be developed, including the provision of water, sanitation, food, shelter, etc.
This action is mainly carried out in crisis periods when a system is suddenly destabilized and the very survival of the population is threatened."
Respect for medical ethics
"MSF missions are carried out in respect of the rules of medical ethics, in particular, the duty to provide care without causing harm to either individuals or groups. Each person in danger will be assisted with humanity, impartiality and in respect of medical confidentiality.
In other respects, this ethical consideration provides that no one will be punished for carrying out medical activities in accordance with the professional code of ethics, regardless of the circumstances or the beneficiary of the action.
Finally, no person carrying out a medical activity can be forced to perform acts or operations in contradiction to the professional code of ethics or the rules of international law."