MSF logistician 'a spider in the centre of the web'
In September 2022, a rare variant of Ebola, the so-called Sudan strain, began spreading in Uganda. Logistician Bonnet Kamate Kihugo has worked for Doctors Without Borders/Médecins Sans Frontières (MSF) around the world for nearly 20 years, but never with Ebola. Despite this, he didn't hesitate when asked to join the project.
It has been intense. Because this was a different strain of Ebola to the one in West Africa, there were no vaccines or drugs available. When the virus started to spread, there was a real rush to get centres set up for care and isolation. Many people with different skills were needed.
"I'm the spider in the centre of the web."
As a logistics manager, I am not an expert in anything, but I know a little about a lot. So, my job is to coordinate between the specialists – that could be anything from construction workers to water engineers to IT technicians.
I'm the spider in the centre of the web, you could say. We worked long days. It was a big team with a lot of materials and staff to organize.
Protecting myself, colleagues and family from infection
I've learned to be extremely careful – it can be a matter of life and death. I wasn't in direct contact with patients so I wasn't so worried about myself. I was thinking more about my colleagues.
But I haven't been able to relax completely. I was worried about being near the family, even though I followed all the safety procedures about hand washing, avoiding physical touch, spraying my shoes with disinfectant and so on. Fortunately, neither I, nor any of my colleagues or relatives were infected.
I am so happy and relieved the outbreak was declared over on Jan. 11 this year. The goal was always to give those who were infected a chance to survive and to stop the virus from spreading across the country. It's not just the medical response that's important but educating people about the virus and how to protect themselves.
I think more people in Uganda have learned to seek medical attention as soon as possible if they notice unusual symptoms. To go to a health facility and not turn to traditional methods.
I am from DRC. I fled to Uganda. … I think you can understand in a different way from people who haven't gone through the same thing.
Not my first MSF rodeo
My first assignment with MSF was in 2004. I have worked in South Sudan, Cameroon and Niger and in several places within Uganda. The last assignment before the Ebola response was in Kisoro in southwestern Uganda, on the border with both Democratic Republic of Congo (DRC) and Rwanda.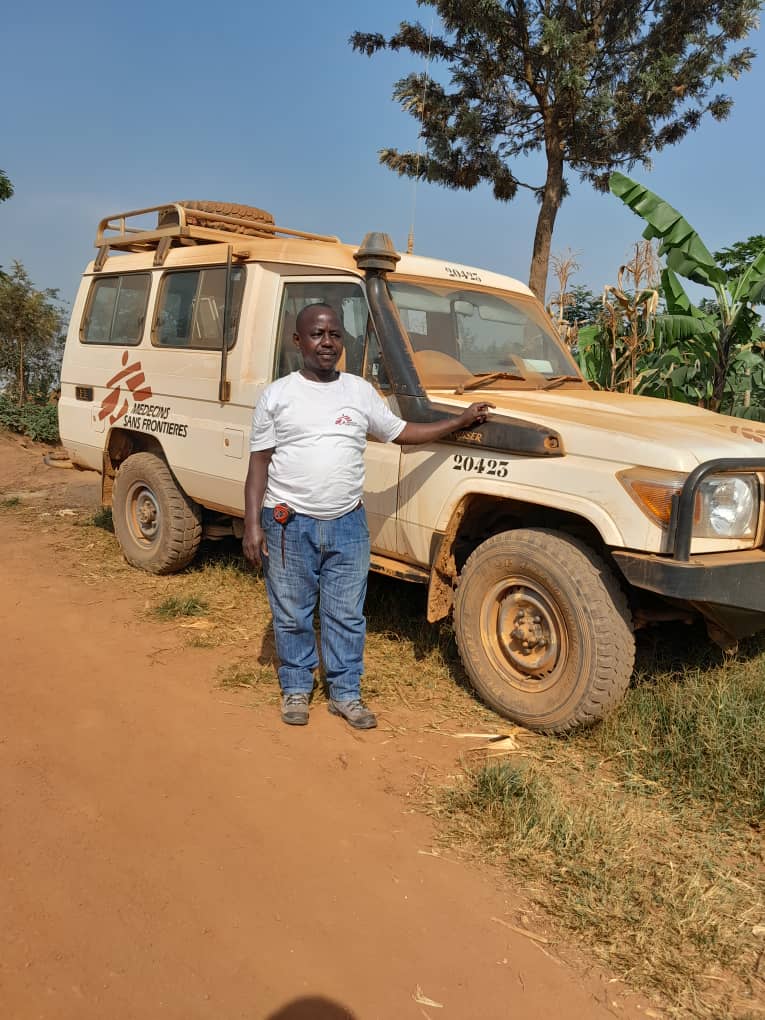 Many Congolese refugees cross into Uganda there so we started a hospital in the area. I feel so sad when I see how refugees are treated because I can relate to them.
I am from DRC originally and fled to Uganda a long time ago. So I've been in their situation and I think you can understand in a different way from people who haven't gone through the same thing. That's why it means a lot to me to be able to support people who are fleeing.
My life in DRC
I grew up in North Kivu. At that time it was calm there. I have many good memories from my childhood. But after the genocide in Rwanda, many people fled to DRC and the situation became very tense.
Before, I had always felt safe in my home country. But now all of a sudden, the fighting was taking place around us. It was the first time I saw people being killed; it was horrible. I realized I wasn't safe anymore.
I went to Uganda as a student in 1999. I haven't been back to DRC since. A lot of my family still lives there so it's sad not to be able to visit them. But I can't go back, it's too dangerous to cross the border. After all these years, Uganda feels like my home. Now I have my own family here – a wife and five children.
My children may be future MSFers
They miss me, of course, but they are also proud. They have got used to it over time. If I'm home for a long period of time, they wonder what's going on. "Aren't you going on an assignment soon?" Ha ha! I think with everything I've told them about the work, my children will want to work for MSF in the future.
Just before the pandemic, in 2019, I bought a small piece of land in the Gitta-Nabuyaka village, quite close to Kampala. I have a small chicken farm there. It's really different from logistics. I dig, I grow some different crops. I didn't know much about farming at all before I started this project, but I'm learning all the time. I also like to unwind by reading and watching movies. I read the Bible and non-fiction books on logistics. When it comes to movies, I like action.
What do I enjoy most about this work?
I really like the atmosphere that is within MSF. Although we're professional staff, it's a true volunteer spirit. You give your whole self to something – and it feels so good. I want to continue to give people the help I never received myself.