No refuge or protection for thousands of people recently deported from the U.S.
By Laura Panqueva Otálora, Doctors Without Borders/Médecins Sans Frontières(MSF) Head of Communications in Mexico.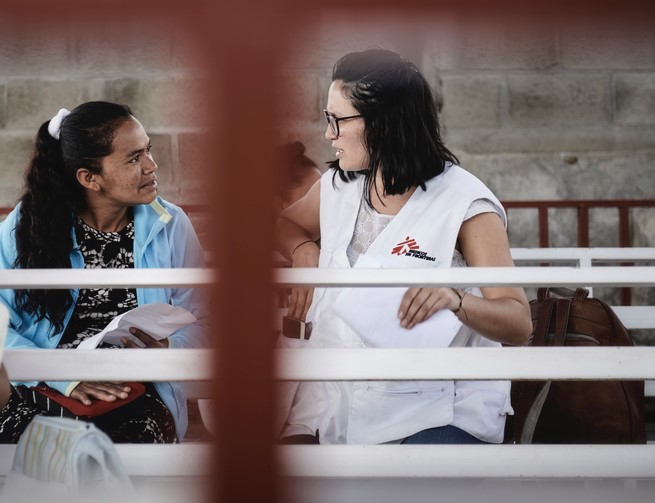 >
In one more attempt to reach the United States, Karen, 21, crossed the Rio Bravo with her three-year-old daughter on her back. The little girl cried and her mother soothed her to avoid being noticed. Along with a group of other people who, like them, are looking for a better life or to be reunited with their families, they made it across the water. For hours they crouched in the bushes, where, they say, they had to remain very still to avoid being bitten by the snakes slithering around them. But in the end, their treacherous journey ended in the same place it began: back across the border in Matamoros, in the northeastern Mexican state of Tamaulipas. Both Karen and her daughter were detained in McAllen, Texas, and deported for the seventh time to this point on the Mexican border.
"Three of those seven times, I met her in one of the shelters where MSF works in Matamoros," says Ximena de la Garza, an MSF psychologist working in the organization's northern border project. "Her fatigue was showing in her physical appearance because it's not just the crossing – though it's extremely risky – but also the whole process of detention and violence that these people can go through. At each session, I only had an hour to talk to her, because when I went the next day, she had already left. She still kept trying."
It has been nearly a year since Karen arrived in Tamaulipas hoping to meet her partner in the U.S.. In her home country, Guatemala, her brother was murdered, and she was threatened with death. Without a way out, she decided to flee with her baby, risking the dangerous route through Mexico and attempting to cross into the U.S. again and again.
Justifying discrimination through COVID-19
Since March 2020, more than 600,000 deportations from the U.S. to Mexico have been registered, all carried out under the Title 42 policy. In violation of U.S. and international law, this policy instrumentalized the COVID-19 pandemic to justify the illegal and discriminatory detention and automatic deportation of all foreign nationals from the U.S., including asylum seekers. Most of them come from the Northern Triangle of Central America (Honduras, El Salvador, and Guatemala) and most of them are unaccompanied women, children and adolescents.
The number of families deported to Reynosa grew by hundreds this April. As of April 29, in the La República plaza, around 350 people were sleeping on cardboard in the open air. "The situation is critical," says MSF project coordinator José Antonio Silva. "They are mostly coming from a deportation process from the U.S., where they are immediately detained and expelled. When they are brought back to the border points, they find that the immigration stations are full, shelters are becoming more and more overcrowded, and their basic needs are not being met."
The lack of response from Mexican institutions to provide these people with dignified shelter is compounded by fear and misinformation. As the number of people staying in the plaza grew, temporary space was set up for them in the sports centre of the Autonomous University of Tamaulipas. But due to rumours and the fear of being separated or sent back to their countries of origin, many people decided to stay together in the plaza. They have organized to keep each other safe, but MSF has witnessed cases of violence, kidnapping and extortion just the same.
The National Migration Institute, located right in front of the plaza, has not commented on the situation. To date, except for the medical services offered by MSF and the occasional food and recreational activities provided by religious communities, there is no organized response.
Lack of essential assistance
"The most acute needs have been seen in the park due to the lack of assistance," says Silva. "We are providing primary healthcare to children, women and [for] medical emergencies. Whenever we detect respiratory symptoms or suspected cases of COVID-19, we notify the health jurisdiction, which is in charge of doing the rapid tests. Likewise, we provide mental health care with psycho-education activities, both in groups and individually. We provide support with social work, giving legal and administrative guidance. And we also promote health to raise awareness and prevent diseases, as well as provide basic hygiene kits."
One of MSF's main concerns is the growing number of minors and their high exposure to violence on the streets. Some children have been separated from their families but cannot get help from the overburdened institutions responsible for protecting them, such as the National System for the Integral Development of the Family (DIF) or the Border Attention Center for Minors (CAMEF. Many of them are increasingly vulnerable with nowhere safe to stay.
"During one of the group interventions we carried out in the sports centre a child expressed his feelings of grief through his drawing: a broken heart," says MSF mental health supervisor Karla Villalpando. "He said he felt he had lost his grandparents, his school, and his life. The other children drew similar pictures. Many of them say they don't understand why they are there."
Significant toll on mental health
LGBTQI+ people are also particularly vulnerable. MSF works in a Matamoros shelter that caters specifically to them. Of the handful of people staying there, all have suffered repeated violence and almost none have family networks, having been rejected and abused by their communities.
"During the group sessions, one man caught my attention," says de la Garza, the psychologist. "He was noticeably quiet. We started talking and he told me that he is a mechanical engineer and had a job, but he had lost it after being abused in Matamoros. Two people had put him in a van and beaten him. After being kidnapped, he managed to escape and reach the shelter. This happened in February and until a fortnight ago he did not leave the shelter. He couldn't go down the stairs for fear. He started to dress in baggy clothes, to cover his face and hair with a cap. He began to have suicidal thoughts. He had no support networks in his home country, Nicaragua, and his companions left. At that point, the most urgent thing we worked on was his suicidal thoughts and we contacted some support networks. We have now had five sessions and he is doing better."
In April, MSF diagnosed patients with conditions related to complex trauma and depression, which manifest as difficulty sleeping, anxiety, and hypervigilance as a result of their displacement and the situation in which they now find themselves. Musculoskeletal pain and skin and respiratory infections have also been recorded. There are cases related to chronic illnesses, mainly high blood pressure, and some cases of women who are pregnant or who have recently given birth and need pre- or postnatal care.
MSF urgently calls on the Mexican government to strengthen its institutional response and to address the humanitarian needs of migrants, and on the U.S. and countries in the region to enact policies that keep people on the move safe.