On the soccer field: A tale of community engagement
In the town of Abyei, a contested area between South Sudan and Sudan, there is an electric atmosphere rivalling that of any World Cup match. This soccer field, however, serves as a witness to community engagement, woven into life by a team working with Doctors Without Borders/Médecins Sans Frontières (MSF).
Abdulrahman Khaleel was two months into his role as MSF project coordinator in Abyei when he saw a chance to strengthen engagement between MSF and the local community, which just a year ago was splintered by intercommunal violence.
The idea was simple: a multi-day soccer tournament that would help bring people together.
Strengthening relationships
MSF's soccer team had been set up just weeks earlier. Participation in the MSF team was not exclusive to the athletic or skilled, but was open to all staff members, creating a sense of belonging.
"On arrival in the project, I noticed a chance to strengthen the relationships between the staff working in the project," says Khaleel. "I wanted to create something that would attract everyone's attention and bring us all together in one place. I proposed the idea of starting an MSF team to play soccer together, made up of MSF staff, Ministry of Health staff and daily workers.
"This event raised people's spirits and closed the gap between the various staff working in the project. We made sure that participation in the soccer team was open to everyone. It provided a space in which all the staff could feel affiliated with something."
MSF has been providing medical care in Abyei Special Administrative Area since 1997. In 2006, MSF expanded its work in Abyei to provide a range of services including emergency care, surgery, maternal and pediatric care, vaccinations and treatment for various diseases.
In 2008, MSF established a hospital in Agok. Following intercommunal violence that broke out in Agok in February 2022, which led to some 70,000 people being displaced from their homes, MSF moved its operations from Agok to Abyei town and Twic county to continue supporting people displaced by violence.
The idea of a soccer tournament between the new MSF team and the local community materialized with the help of local authorities and youth representatives. The tournament featured 12 local teams, all playing on one field.
Talking about soccer, not war
MSF organized the tournament: securing the field, arranging referees and assistants, and inviting the local teams. The event took place over several days in June and was attended by local people and community leaders. It provided a unique opportunity for MSF staff to engage with the community beyond its daily medical-focused activities. The scale of community involvement exceeded expectations. The excitement reached its peak when the MSF team took the field, reflecting a connection that went beyond medical support.
"We were surprised by the number of people from the community who came out to watch each match, especially when the MSF team was playing," says Khaleel. "The final match was attended by a large audience including the head of local government in Abyei. We were amazed by the attention the soccer tournament received and its impact on the community."
For Reena Sattar, an MSF HR manager based in Juba, attending the tournament was not just about soccer; it was an example of community engagement at its best.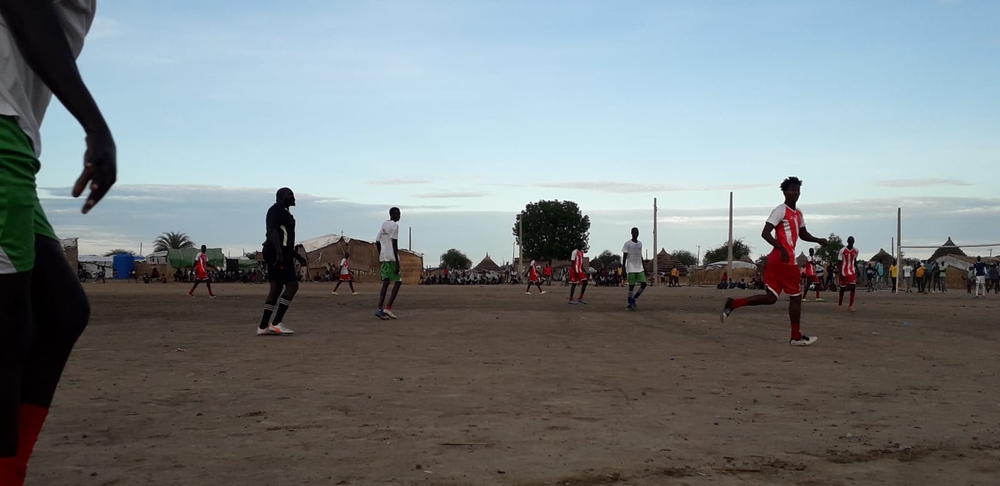 "I was here in February 2022 just after the intercommunal violence in Agok," says Sattar. "I came back a year later to see the progress from emergency response to more regular-style projects in both Abyei and Mayen Abun. On my second day here, Abdulrahman [Khaleel], the project coordinator, said: 'There's a soccer match today after work, do you want to come? It's an MSF tournament we organized.' Of course, I said yes!"
Khaleel recalls how a team member told him that, after the tournament, local people were talking about the soccer matches rather than about tensions related to the recent conflict. This highlights the positive impact such an initiative can have on people's morale and focus.
"This kind of activity brings us miles ahead with our efforts to approach the community and youth," says Khaleel. "By organizing this tournament, we sent a direct message to the community about who we are. I won't forget the moment when a team member approached me and said: 'This was a great idea. People are now talking about the tournament, not the war and conflict.'"
Working to be more inclusive
The MSF team in Abyei has also been focusing on diversity, equity and inclusion within the project in recent years. This has led to a shift in gender roles and to the promotion of locally hired staff to managerial positions through training and development programmes.
Sattar, who leads on HR operations for MSF in South Sudan, says: "In South Sudan, we now have female drivers and male midwives – it sounds like a small thing, but it didn't exist 10 years ago. We've also seen the progression of staff from entry-level positions up to managerial positions, thanks to on-the-job training, as well as to people management courses and technical, logistical and medical training for our staff. I also hope to see us moving towards more inclusive decision-making: involving our locally hired staff more in operational decisions, given they know the history of the project as well as the context."