Sudan Crisis: MSF calls for civilians to be spared and enabled to flee the city safely
As almost 900 wounded and 15,000 Sudanese refugees from West Darfur's capital and its surroundings have reached the Chadian town of Adré in the last four days, Doctors Without Borders/Médecins Sans Frontières (MSF) warns of consistent reports of people being shot at and killed as they try to leave the city during their perilous escape to Chad. MSF urges all armed groups in and around El Geneina to spare the civilian population and to let people who want to leave the area to be safely allowed to do so.
After nearly two months of blockade and large-scale violence in El Geneina, situated approximately 35 km from the Chadian border, thousands of people are now giving their all to escape the siege and attacks.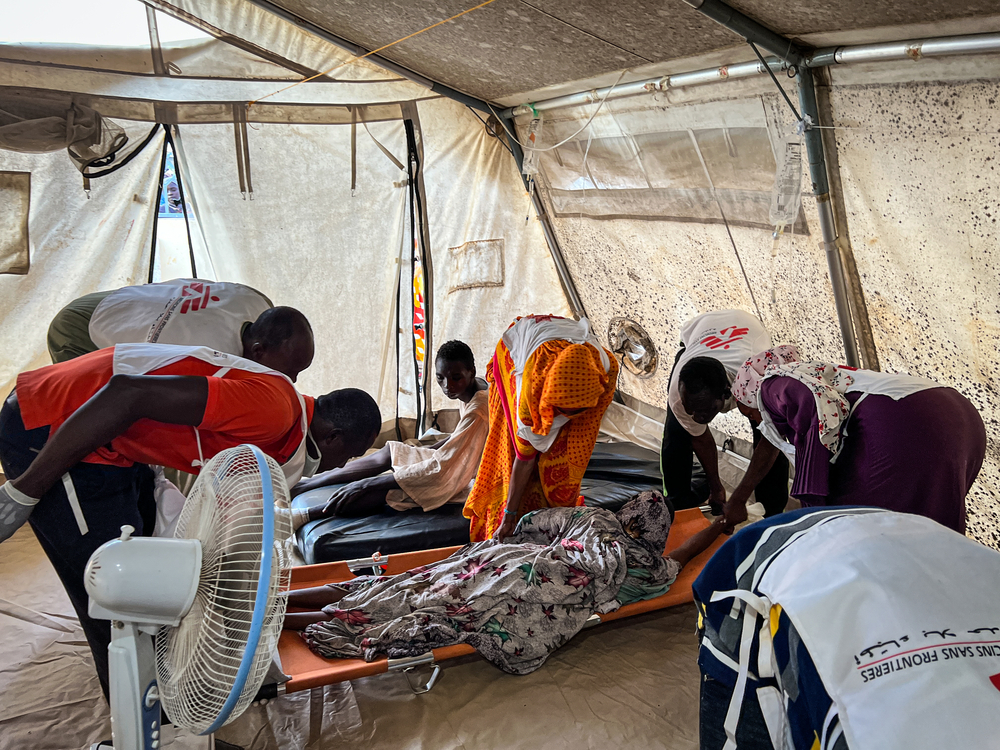 "On June 14, 2023, the governor of West Darfur was killed. At this moment we knew that the situation would get even worse, and it was a collective decision of the people of El Geneina to leave", explained Nour, a 25 year old from El Geneina who arrived at Adré hospital on June 15. "Most of them fled on foot heading northeast of El Geneina but many of them were killed on this route.
The only solution was to head west and people started walking to Adré in Chad, but the journey was full of dangers as we were exposed and targeted. On June 15 at 11 a.m. while I was walking near a town called Shukri, an armed man shot me in the face but thank God I survived to be treated here in Adré hospital."
Being shot at is not the only danger on the road for people desperate to flee El Geneina, as the testimony from Salma*, 18 years old from El Geneina, demonstrates. On Thursday, June 15, around noon, Salma and her two sisters were fleeing the chaos in El Geneina. Their escape was abruptly halted when six armed men in a bus wrenched Soadd* away from her terrified sisters and raped her. 
Soadd is currently fighting for her life in Adré hospital, where she is receiving critical medical support. The three sisters are facing not only the trauma of violence but also the anguish of being separated from their parents in this time of crisis. They have lost contact; their mother is in Nyala, and there is uncertainty regarding the whereabouts of their father.
For almost two months, El Geneina, the capital of West Darfur state, has been in the grip of fighting. This was initially triggered by clashes which erupted on April 15 between the Sudanese Armed Forces (SAF) and the Rapid Support Forces (RSF) in Khartoum and extended to other states. The unrest has since spiralled into uncontrollable chaos in El Geneina, with intercommunal violence involving youths from the Masalit and Arab tribes adding fuel to the fire.
"The level of violence has been escalating, and people have felt and continue to feel exposed at any given moment to the risk of being targeted or exposed to violence" said Konstantinos Psykakos, MSF's outgoing project coordinator who was in Adré, near the border with El Geneina city for the past two months, waiting for access to the city which was not facilitated.
Eyewitness accounts from the patients who have arrived in Adré hospital in Chad told our teams about mass killings, displacement, looting, women escaping alone with children, and dead bodies in the streets.
Recalling the hardship of surviving in El Geneina over the past few weeks, Nour explained that "no one was allowed to go in or out. We didn't have clean water to drink, as the armed groups destroyed it. People tried to get clean water from some wadis or natural running water, but snipers were shooting at them. They came to the neighbourhoods on pickups and motorbikes, fully armed with machine guns and aircraft guns mounted on their pickups, they were killing anyone they saw then looting houses then burning the neighbourhood."
Salima, 27 years old from El Geneina, escaped alone with her five daughters and two boys after she was shot in the right leg causing multiple fractures while walking in the street near her house. "This happened two days ago on June 14, 2023, but yesterday a helpful man carried me and my kids in his pickup truck to Adré in Chad. "I don't want to go back home because the unthinkable is happening, men and boys are being killed, and sometimes the armed men let women flee and sometimes not." During this chaos, Salima lost contact with her husband, she has no news at all about his whereabouts.
In addition to calling on all parties to the conflict in and around El Geneina to spare civilians and their vital infrastructure and to let people who want to leave the city to flee unharmed, MSF is making an urgent call for humanitarian teams to be able to access the city and provide support so that the wounded and sick can be cared for.

* Names have been changed