"Survivors showed me their scars and told me how they were beaten by guards in Libya"
Doctors Without Borders/Médecins Sans Frontières (MSF) continues search and rescue activities on the Mediterranean Sea to support people in distress who are fleeing crises. Children and adults, no matter who they are, everyone we assist at sea is in a vulnerable position. We see people from all over the world taking dangerous journey.
By Niamh Burke, MSF nurse
In near total darkness on the first evening of 2023, we approached a flimsy craft bobbing on the dangerous waves of the Mediterranean Sea, many miles from the safety of shore.
From my position at the bow of one of the two MSF highspeed rescue boats, it was hard to see how many people were onboard.
I wondered what condition they may be in; likely hungry, tired and traumatized as well as soaked with sea spray in the ocean winds.
While colleagues on the first rescue boat approached the side of the craft and started handing out lifejackets to those onboard, we remained watching from a distance to spot if anyone was at risk of going into the water.
The narrow aluminium boat was very unstable as it rocked with the current, keeling to one side when people moved around. Suddenly, it capsized, plunging 41 people into the dark January sea.
Fortunately, they had already been able to put on the lifejackets that had been handed out, but they still had been on the water for three days, cramped and exposed to the elements in an unsheltered boat with not much water or food. Their energy levels to stay afloat were low and they were terrified as the cold shock set in.
Straight away we started working to get people out of the water. After much effort with inflatables and hands outstretched under our spotlights, everyone made it safely into the rescue boats. We immediately turned to hand everyone over to the Geo Barents, MSF's dedicated search and rescue vessel, before returning to commence a search pattern, looking between fuel jerry cans and other debris for any missing survivors.
Finally, everyone was accounted for. Back on the Geo Barents, the rest of our team were on deck triaging and making sure people who needed medical attention received it first. We treated some survivors for hypothermia, but the outcome could have been much worse. It was very lucky that there were no more injuries or even drownings.
That rescue operation, my first as part of an MSF search and rescue team, showed me just how precarious the situation facing people making the desperate journey across the Mediterranean is.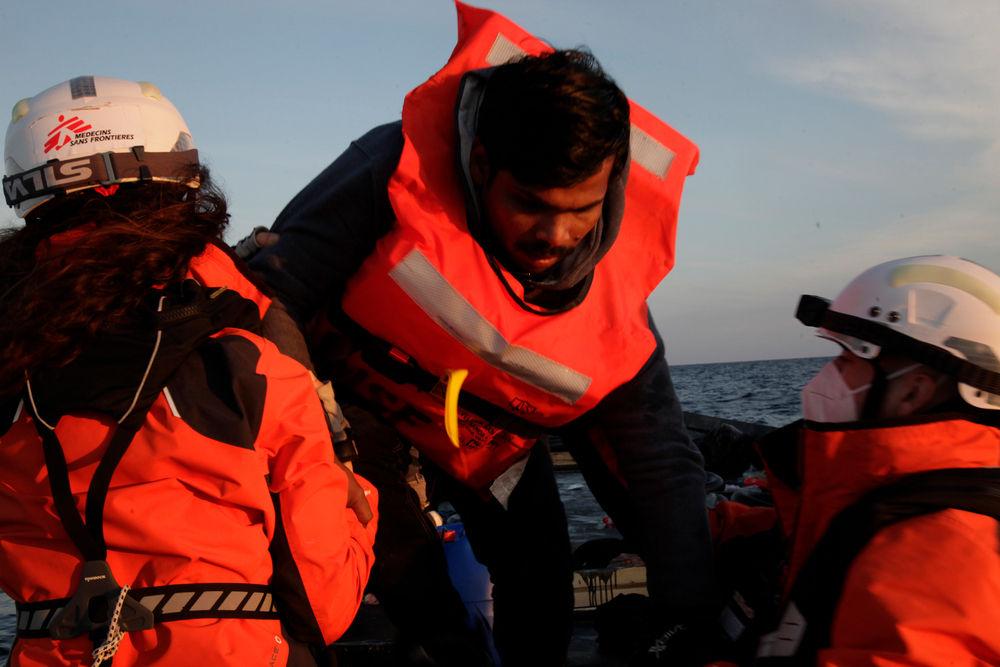 Survivors display a range of medical issues due to their perilous journey at sea and their experience in Libya or elsewhere along their migration route. After being crouched on a boat for days and being detained prior to that, muscle pain, hypothermia and headaches are very common. People in these boats also often suffer from fuel burns, which continue to burn through the skin until they're washed off. Recovery can be very painful. Some people have scabies from their time in overcrowded and inhumane detention in Libya, and others have suffered chronic injuries and scars from torture and physical violence.
The MSF medical staff onboard are available to speak with if survivors would like. Some showed me their scars and told me how they were beaten by guards in Libya and were forced to drink water from the toilets. They would speak about being beaten with heated plastic, wood and iron bars. Some of the survivors had suffered sexual violence.
A lot of survivors end up arbitrarily detained in Libyan prisons and in centres resembling prisons. Some were held at smugglers' houses or farms, where they work and work for no pay. I was told stories of previous attempts to make the journey across the Mediterranean, with boats being shot at and forcible returns to Libya, as well as abuses they suffered in that country.
On one occasion, I witnessed a boat in distress being pushed back by the Libyan Coast Guard, which one of the worst moments for me during my time on the Geo Barents. We were instructed not to approach the scene by the Libyan Coast Guard while the interception was ongoing, and even though we were in our rescue gear, ready to go, we couldn't do anything to assist.
Having to stand by and simply watch survivors being forced onboard the Libyan Coast Guard boat, knowing they would be taken back to Libya, in breach of international law, was hard to take. We knew people would be taken back to prisons and to warehouses, to suffer the same abuses many of the survivors onboard the Geo Barents had told us about.
A new legal decree from the Italian government aimed at obstructing the work of search and rescue nongovernmental organizations on the Mediterannean Sea has made the situation even more difficult. Before the decree took effect at the start of 2023, we could do three, four or five rescues before moving to a port of safety, usually somewhere closer, like Sicily.
Since the beginning of 2023, the ports assigned by the Italian authorities are further away. While we aren't spending as much time in the search and rescue zone, we are spending more time travelling back to northern Italy, so we're not in the areas where we're needed. It's also very hard having to come all the way back from a distant port with an empty boat, while people are drowning at sea.
I will never forget the disembarkation of those who had capsized. A group of older men started crying when we were saying goodbye, because I think they had thought they were going to die. These men had family at home that they may never have seen again.
It was always good to see survivors leaving safely after such a difficult and dangerous journey, but there will be more challenges ahead as they begin their new lives in Europe.