Syria-Türkiye earthquakes
How MSF is responding
Powerful earthquakes hit the south of Türkiye and northwest Syria on Feb. 6. Doctors Without Borders/Médecins Sans Frontières (MSF) teams, already present providing humanitarian assistance in northwest Syria, are together with local partners responding to people's urgent needs in the area since the quakes.
Many of our staff have been impacted themselves, whether directly or indirectly, by the earthquakes. Some have lost their houses or their loved ones too. Sadly, two of our colleagues died.
MSF's main response has been in northwest Syria with teams already there. While MSF is not registered in Türkiye, in collaboration with local partner organizations in the country we have distributed essential relief items, including tents, heating materials, food, hygiene kits and warm clothes.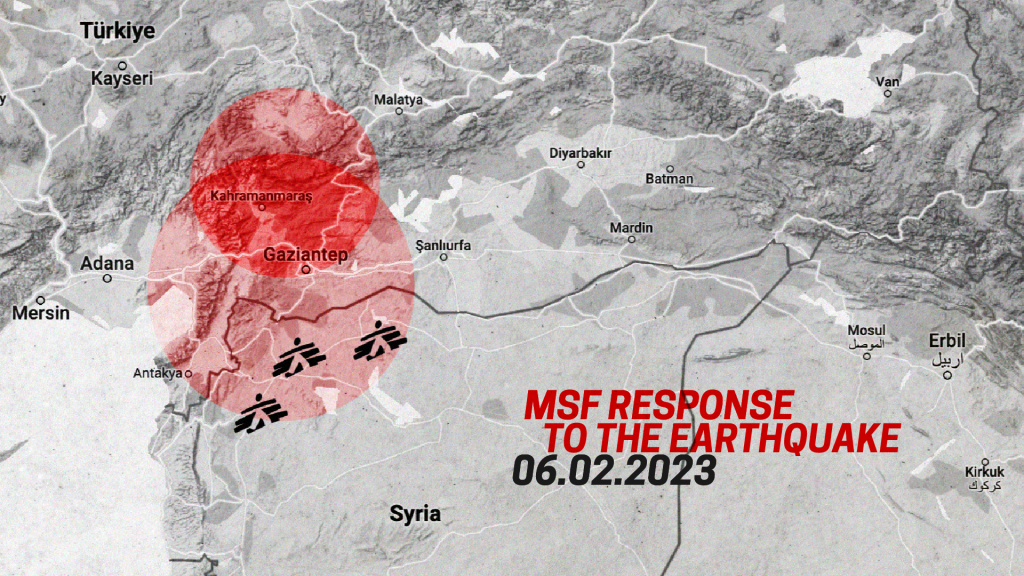 What is MSF doing?
Northwest Syria
As of April 30, our teams have:
distributed 110,835 relief items
conducted 198,477 mobile clinic, PHC, and hospital consultations
conducted 8,026 mental health consultations
supported 36 hospitals
Offering immediate relief support to people affected by the earthquakes, particularly those without shelter in this cold weather, will be a main priority. People need shelter, food, blankets, clothes, heating materials, hygiene kits and medical assistance including mental health support.
MSF teams are adapting their response in northwest Syria to offer immediate relief and medical support. The pillars of the first few days of the response were supporting medical facilities to treat patients with material and HR support, facilitating transport of patients by supporting ambulances and providing immediate relief items to people affected. Today, MSF has scaled its efforts running mobile clinics, distributing relief items, implementing water and sanitation and logistics activities and offering psychological first aid.
The massive consequences of this disaster will require an equally massive international response. For Syrians living in the earthquake zone, this is a catastrophe layered on top of crisis after crisis. People have endured more than a decade of war, an economic crisis, the COVID-19 pandemic and a recent cholera outbreak.
Within the first hours of the first earthquake, MSF teams already working in northwest Syria treated over 200 patients in Idlib. In the first days we supported care for 3,465 injured in health facilities in Aleppo and Idlib governorates and provided emergency medical items to over 23 facilities in northern Idlib.
Türkiye
In collaboration with local partners, as of April 25 our teams have:
distributed 38,154 hygiene kits
provided 2,624,721 litres of water
served 390,500 meals
distributed more than 53.1 tons of firewood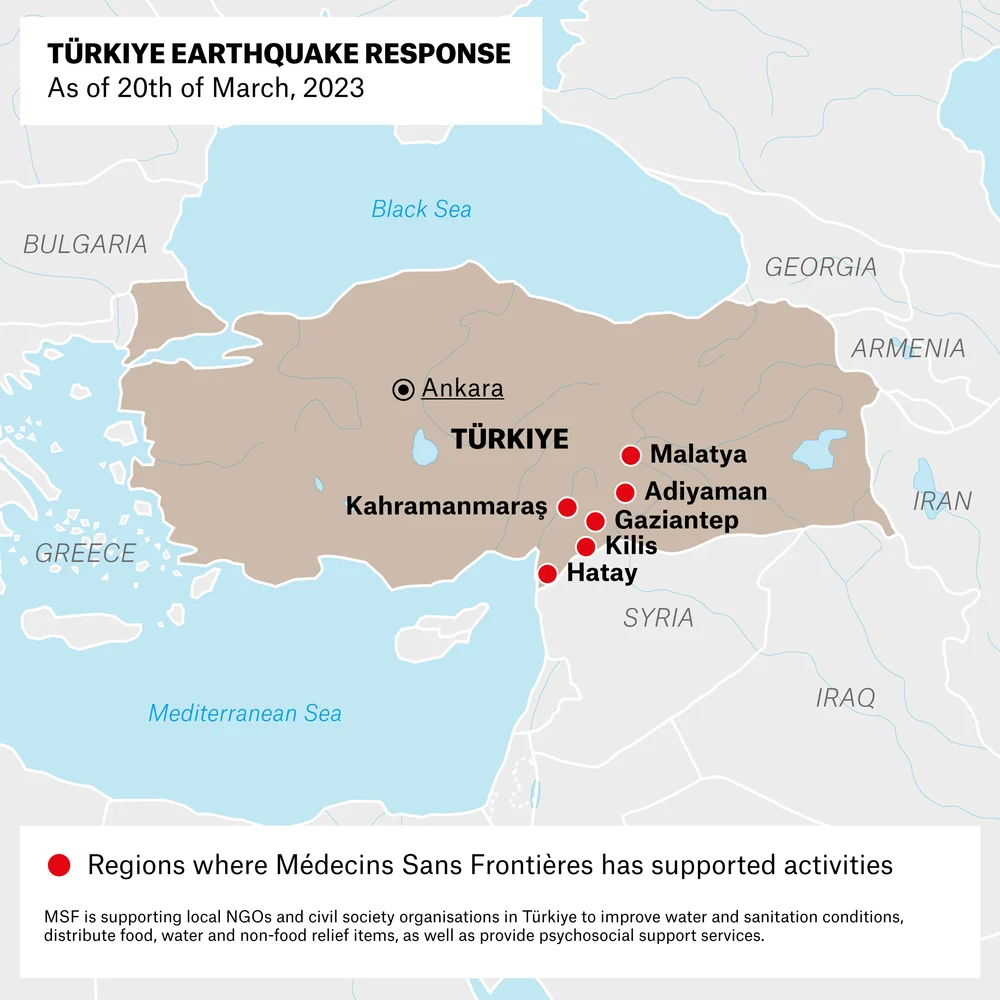 The situation is extremely fast-moving. More information on MSF's response to the earthquakes will be shared as it becomes available.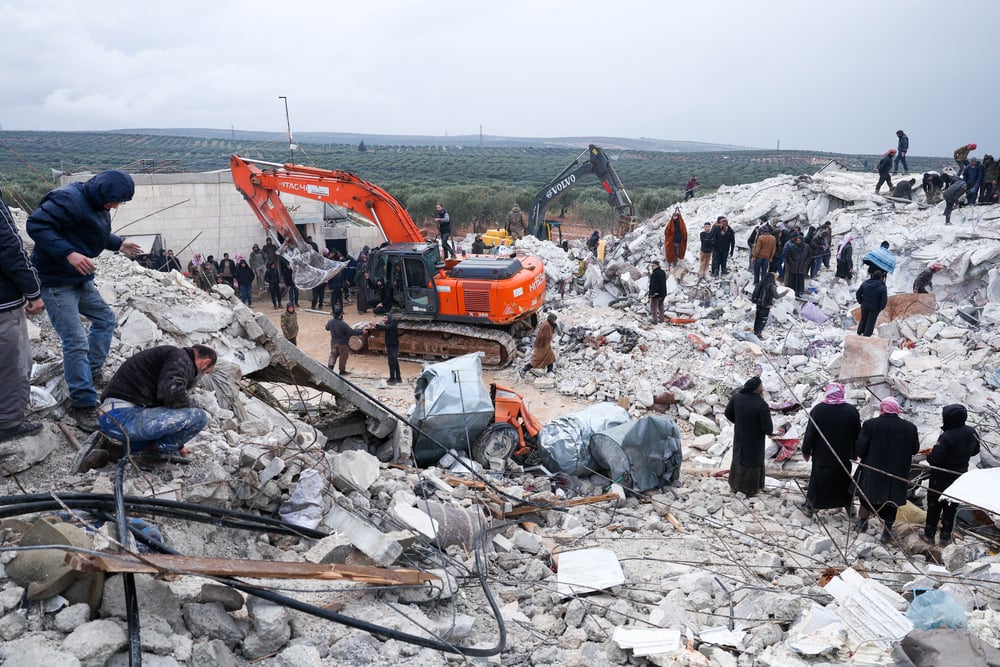 Can I donate to support MSF's work?
Right now, our teams are treating patients in northwest Syria and assessing medical needs in Türkiye following the devastating earthquakes that hit the region on Feb. 6. MSF's ability to act quickly and support people affected by crises, including those affected by this recent natural disaster is possible because of donations from people like you.
While we are not accepting gifts designated specifically for this emergency, it is by donating to our general fund that you can help us respond rapidly to emergencies all over the world, including this one.
Please donate today to support our emergency medical teams deliver healthcare to people who need it most.
Learn more about how MSF spends your money.
MSF in Syria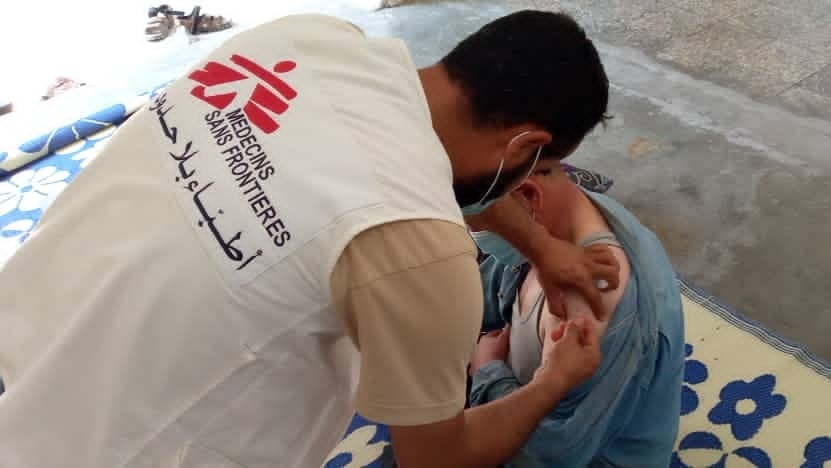 War has raged in Syria for over a decade, killing hundreds of thousands of people and causing widespread destruction and suffering.
Civilian areas have been routinely bombed and deprived of assistance, and access to healthcare remains extremely poor in many areas.
MSF operates in Syria where it can, but ongoing insecurity and access constraints severely limit our activities and hamper our ability to provide humanitarian assistance that matches the scale of the needs.
In areas where we can negotiate access and assurances of our staff's safety, we run or support hospitals and health centres and provide healthcare in displacement camps.
We also support existing healthcare facilities through donations of medicines, medical equipment and humanitarian relief items; remote training of medical staff; technical medical advice and financial assistance to cover facilities' running costs.
In March 2020, a ceasefire was signed to put an end to the fighting in northwest Syria, but bombings and shelling have not stopped since then, especially in southern Idlib governorate. Although the intensity of the fighting has decreased, 2.7 million people, the majority of whom are women and children, currently remain internally displaced and continue to live in dire circumstances.
As of today, cross-border operations remain the only viable humanitarian channels to cover the growing needs in northwest Syria.
MSF and natural disasters
Within minutes, natural disasters such as earthquakes, tsunamis and hurricanes can overwhelm a population and displace entire communities. Thousands of people can be injured or traumatized by the loss of family, friends and homes, while access to clean water, healthcare and transport can be cut off. This also leaves thousands of people without homes, forcing them to leave.
MSF has more than 50 years of experience delivering rapid and coordinated medical responses to offer humanitarian assistance to survivors of natural disasters.