As Canada reopens, lower-income countries still lack access to COVID-19 vaccines – leaving everyone at increased risk
By Jason Nickerson, MSF Humanitarian Representative to Canada, and Adam Houston, MSF Canada Medical Policy and Advocacy Officer.
In late October 2021, the world passed another grim milestone in the COVID-19 pandemic, as the official global death tally from the virus passed the five-million mark. The real toll is likely to be much higher, and as new variants continue to evolve and spread through vulnerable populations, will only increase. By the time Canadians begin ringing in the new year next January, many more people around the world will have died of the disease.
As has been seen recently in Canada, new cases and deaths from COVID-19 are occurring mostly among the unvaccinated. Unlike in Canada, however, millions of people around the world have no choice – there simply aren't enough vaccine doses available in their countries to protect them. This disparity is largely determined by one thing: wealth.
Low-income countries can't compete in the global race for timely vaccines
Adults who live in wealthy countries such as Canada have almost universal access to the two doses needed to be fully vaccinated – indeed, Canada has secured more doses than it can possibly use, even after accounting for plans to make a third booster dose available to all Canadians. In Canada, the biggest challenge is no longer to make sure we have enough jabs to go around in the first place, but to convince the vaccine-hesitant to get the jab.
In lower-income countries, however, the picture is drastically different. Their governments can't afford to outbid Canada and other wealthy nations on the global market for access to the world's still-limited supply of vaccines, which is still tightly controlled by the pharmaceutical companies that make them.
Only 15 of the 54 countries in Africa met the goal of fully vaccinating 10% of their population by the end of September. The WHO now estimates only five countries in Africa will meet the goal of vaccinating 40% of their population by the end of 2021.
Some will fall far short. In Cameroon less than 1% of the population had been fully vaccinated as of early November, meaning most people, including vulnerable populations like healthcare workers and elderly people, have yet to receive a single jab. In many countries, it could take not merely months but years before enough vaccine is available to fully vaccinate everyone – by which time new variants of COVID-19, including some that may be resistant to the world's current vaccines, will have had time to evolve. These new strains in turn pose a risk to even fully vaccinated Canadians.
Many of MSF's own health workers remain unprotected
Lack of access to vaccines for even the most vulnerable populations is a serious problem all over the world. Healthcare workers in many countries, including MSF's own staff members, must continue responding to medical emergencies, including COVID-19, without any protection from the virus. In the video below, MSF medical staff in Honduras, Iraq, Uganda and Yemen describe how the disparity in vaccine supply between wealthy and poorer countries leaves them with no choice but to risk their lives every day:
Why are many of the world's most vulnerable still unable to access COVID-19 vaccines?
Why is this happening? In a global pandemic with fast-emerging new disease variants – a pandemic that won't be over anywhere until it's over everywhere – how can some countries be loosening restrictions and rolling out booster doses while others don't even have enough to provide first doses to their most vulnerable people?
One fundamental problem is that pharmaceutical companies like Pfizer and Moderna simply can't make enough doses on their own to supply the entire world with vaccines – and what they can produce, they prioritize selling to wealthy countries who are willing to pay more than everyone else, even where those countries are administering third shots while others wait for their first doses. Meanwhile, those same companies refuse to openly share the knowledge and technology required to produce enough doses to meet immediate global demand – even though the development of these vaccines was largely paid for by governments and their taxpayers around the world.
Canada and others had once called for global vaccine solidarity; what happened?
It wasn't supposed to be this way. When the pandemic first began, there was widespread recognition that it was a global crisis in need of global solutions. The COVAX Facility, for example, was a mechanism set up to pool global purchasing of vaccines as they became available, to make sure that doses would be available for those most at-risk, wherever they lived, and that lower-income countries would not be left behind.
In those early months, Canadian Prime Minister Justin Trudeau and other leaders eloquently called for global solidarity in response to the pandemic, and Canada and other wealthy countries supported COVAX by not only providing funding but also becoming participants in the program, agreeing to source vaccine doses through the facility and thereby boosting its capacity to purchase and distribute doses globally and equitably.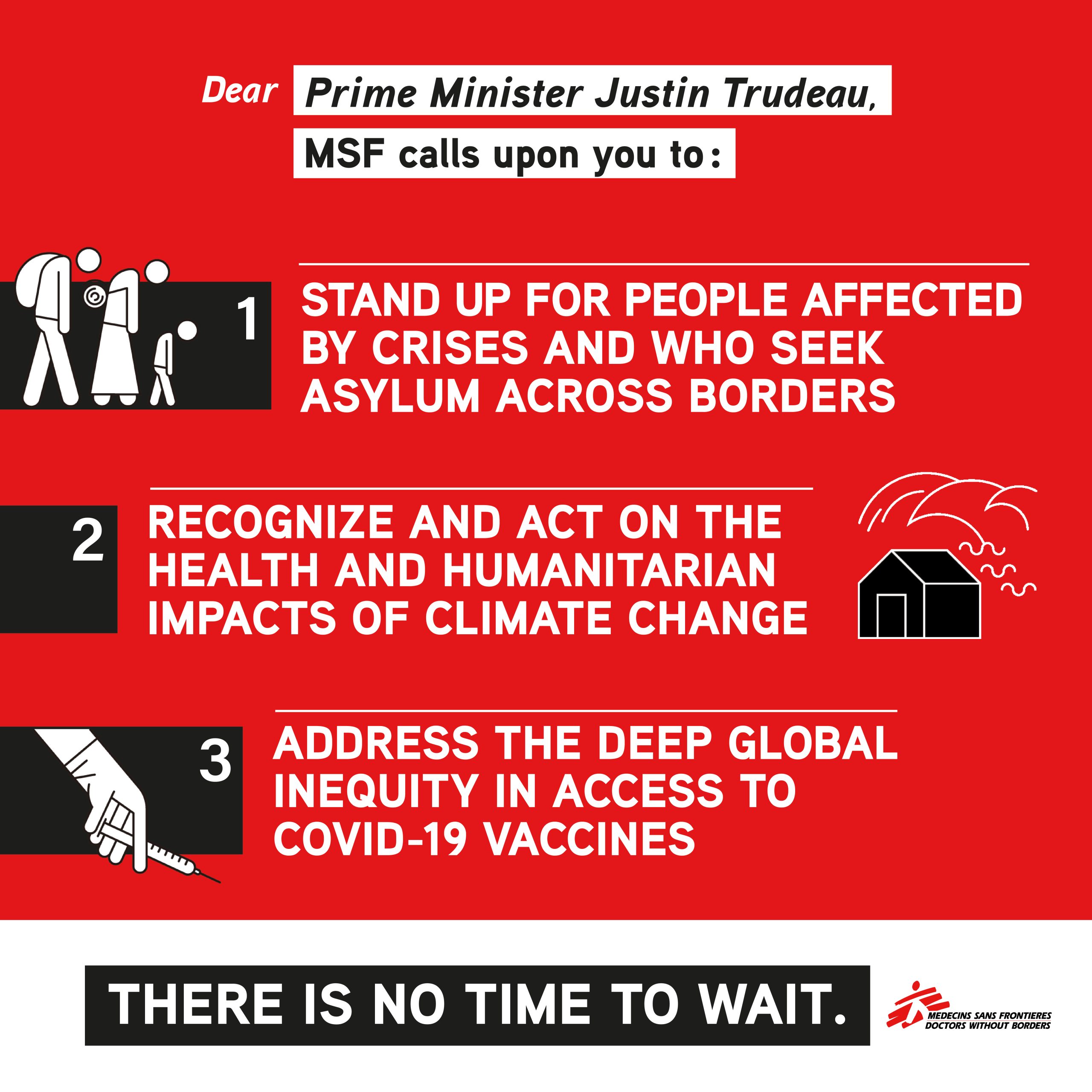 More than a year later, those early statements of solidarity now ring hollow. Despite signing up as a COVAX participant, Canada signed its own bilateral purchase agreements, at undisclosed prices, with pharmaceutical companies; by November 2020, Canada had secured the most doses per capita in the world. Other wealthy countries struck similar deals. This pushed COVAX, and the lower-income countries it was meant to help, to the back of the queue in the global race to acquire vaccines.
Today, COVAX has repeatedly scaled back the number of vaccines it expects to deliver in 2021, while wealthy countries continue to hoard more doses than they can even use.
Canada's government – which still has hundreds of millions more doses secured than the country needs not only to fully vaccinate its entire population but also to provide a third dose – continues to talk warmly of global solidarity and supporting COVAX, but won't commit to reallocating enough of its doses to countries who desperately need them.
Empty promises and prioritizing profits over lives
In yet another demonstration of the mismatch between the rhetoric of wealthy countries and the world's reality, at October's G20 summit in Rome, Canada and others reiterated their support for COVAX by pledging to donate a small amount of doses and a larger amount of money – but without once acknowledging that, with little available global supply of vaccines to actually purchase, those additional funds will not help meet immediate needs. Furthermore, pledges only matter when they are actually fulfilled; going into the G20 summit, Canada had delivered on less than 7% of its pledge of vaccines to COVAX.
Meanwhile, the vaccine makers continue to jealously protect their intellectual property, refusing to increase the global supply by sharing it with other manufacturers, despite making massive profits off vaccines developed mostly with public money. Earlier this month, MSF called on Moderna – which is forecast to earn $18 billion in 2021 from its COVID-19 vaccine technology, which was developed with $10 billion in funding from US taxpayers – to share its technology so the world can boost production, especially in places like Africa, where the capacity already exists but isn't being used for this purpose. So far, Moderna and other vaccine makers like Pfizer/BioNTech – which itself is forecast to make $36 billion from its COVID-19 vaccine in 2021 alone – have refused. While Moderna and others have made broad promises to establish facilities in Africa in the future, there is little sign these plans will come to fruition in time to address the access barriers that are costing lives right now.
What should Canada be doing?
Canadians are fortunate to live in one of the few wealthy countries around the world that has been able to secure more than enough COVID-19 vaccine doses for its residents; it has managed to do so despite not having any domestic manufacturing capacity of its own. That has allowed Canadians to take the steps needed to protect themselves and their loved ones, and to help stop the spread of this disease in their communities.
But that doesn't mean we must also accept that only some people, mostly in wealthy countries, can protect themselves from this virus while many others cannot. Furthermore, the larger the global pool of unvaccinated people, the higher the chance of new variants evolving, against which our existing vaccines may not work. So what should Canada do? Simply put, if there isn't enough supply to protect everyone to the same degree that we are able to protect ourselves, then we need to make sure there is more supply, and that it is shared equitably.
There are three important ways that Canada can help make that happen:
Demand that pharmaceutical companies make their technologies available globally: One clear example of a way to do this is to unequivocally support a waiver known as TRIPS that has been proposed at the World Trade Organization, through which the intellectual property rights on COVID-19 health technologies, including vaccines, would be temporarily waived until the pandemic is brought under control globally. Canada and a handful of other countries – almost all of whom have been able to spend their way to vaccinating their own populations at the expense of other countries – continue to block the TRIPS waiver from succeeding. This must change immediately.
Invest in both research and development and in vaccine manufacturing capacity in this country, and ensure that public investment in these areas yields public benefit: COVID-19 vaccines and other tools would not be possible without considerable public investment by governments and taxpayers; these investments include both research and development (R&D) and production. However, far too often these public investments have had few if any strings attached; as a result, pharmaceutical companies have gotten rich off public money, while far too many people still lack access to vaccines and medicines. Canadians should demand a return on public investment that serves the public good rather than private profits. Although increasing this country's R&D and biomanufacturing capacity won't happen soon enough to address the world's immediate needs, it will help us meet those needs in the future, and it is imperative to start work on this now.
Be transparent and proactive around ensuring COVID-19 vaccines get to the people who need them: While Canada has made numerous statements about the importance of equity and solidarity in this pandemic, they have not translated into sufficient action. Canada has made notably slow progress actually fulfilling its pledges to donate vaccines. Furthermore, over the course of the pandemic, Canada has done very little to be transparent and accountable regarding its intentions for the vaccines it has secured. When booster shots are included, Canada may have secured over 700 million doses of vaccine for just 38 million people. Beyond some broad pledges of sharing surplus, questions of how surplus is determined remain unanswered, the timelines for sharing this surplus have been unclear and the available supply of doses in Canadian freezers has been higher than promised. If the Canadian government is going to continue talking the talk of global vaccine solidarity, it must be clear on how it intends to walk the walk, by being transparent on its available supplies and donation plans.
More than a year and a half into this pandemic, the world is failing to respond to this global emergency with global solutions. Vaccines, without which it will be impossible to end this pandemic without the loss of millions more lives, have only reached a select few, as countries outbid one another and hoard supplies, and pharmaceutical companies places profits ahead of people's lives by limiting access.
It is time to act. Vulnerable people need access to vaccines now, no matter where they live – and countries like Canada, which has already protected much of its population, must help. Otherwise, the virus will continue to spread, new variants will continue to emerge and people will continue to die unnecessarily. And COVID-19 will continue to threaten all of us, everywhere.