Crisis in Sudan
On April 15, intense fighting broke out across Sudan with a wave of gunfire, shelling and airstrikes. The violence between the Sudanese Armed Forces (SAF) and the Rapid Support Forces (RSF) has trapped millions of people in the middle of an unexpected conflict. Many have been forced to flee their homes while access to essential services such as healthcare has become increasingly difficult.
Doctors Without Borders/Médecins Sans Frontières (MSF) teams have already been working in Sudan have been responding to the crisis since its first moments. Our healthcare projects and hospitals – in some places the only medical facilities still open – are treating an influx of critical patients: people wounded in the violence, pregnant women in labour and chronically ill people with nowhere else to go.
The situation is extremely fast-moving. The information below is correct as of May 4, 2023.
We are urgently calling on our supporters to help us raise $1 million for MSF's Sudan Crisis Fund.
What is MSF doing?
Right now, MSF teams are seeing immense humanitarian needs in Sudan.
MSF-supported hospitals are providing emergency trauma care to people wounded in the violence and vital continuity of care to patients cut off from essential medical services.
Our hospital in El Fasher, North Darfur, has received a particularly large number of wounded patients. To date, teams have treated 427 people, while 89 have died from their injuries.
Clinics and hospitals have been forced to close across the country. MSF teams continue to run projects in parts of West Darfur, Central Darfur, Al-Gedaref state and Blue Nile state.
Medical supplies are running critically low across Sudan. As well as supporting MSF hospitals, our logistics teams have also reached five under-pressure healthcare facilities in Khartoum – including Jabra Hospital – and are in contact with other hospitals in the capital.
In Wad Madani, we have started running mobile clinics as well as distributing essential relief items to people who are displaced. Our teams are also beginning support at Kamlin hospital, where patients affected by violence in Khartoum will be referred.
An MSF surgical team has arrived at Port Sudan and is ready to rapidly go to areas where their skills are needed.
In some parts of Sudan, our teams have been unable to provide care due to intense fighting or intrusions and looting at our existing medical projects. Across the country, our colleagues, as well as our patients, remain trapped by the conflict. Importantly, however, MSF does not plan to leave Sudan.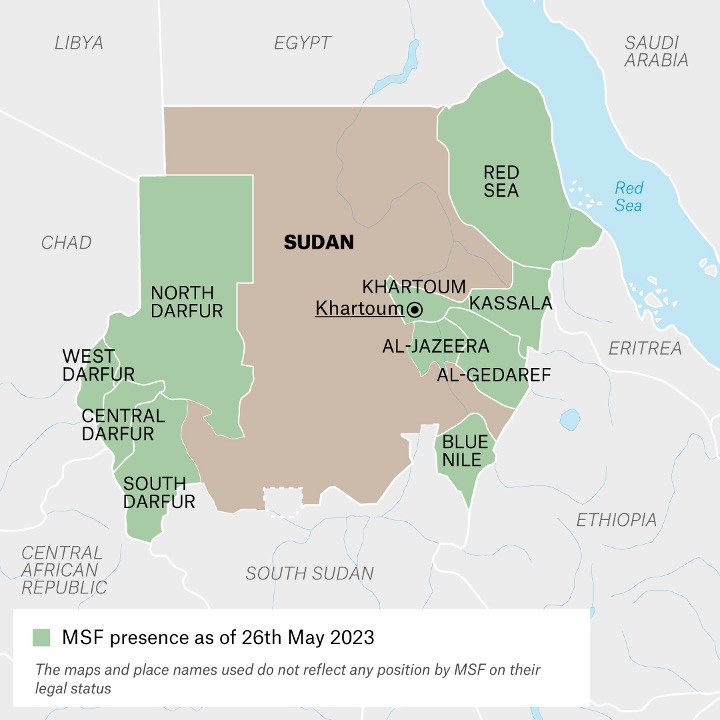 Can I donate to support MSF's work in Sudan?
Yes. We are urgently calling on our supporters to help us raise $1 million for MSF's Sudan Crisis Fund.
MSF teams already in Sudan have been responding to the crisis since its first moments and are working around the clock to rapidly scale up our operations.
Our teams are counting on the support of donors like you. Please make an emergency one-donation to MSF's Sudan Crisis Fund now.
Learn more about how MSF spends your money.
The crisis: Explained
Following a military coup in 2021, most international assistance to Sudan was frozen. This led to an economic crisis and increased food insecurity.
Sudan's healthcare system was also extremely fragile even before the recent escalation in violence and access to basic medical services has been a challenge for most people.
This critical situation has been caused by a combination of recurring violence and conflict, the economic situation and the cost of healthcare, and an overall lack of medical staff and resources.
On May 5, MSF donated medical supplies & hygiene materials to Al Kamlin Teaching Hospital. Sudan, 2023. © MSF
Added to this, the sharp decline in international assistance has had consequences including reduced vaccination coverage and increased malnutrition among children.
Before the conflict, around 78,000 children under five were dying each year due to preventable causes such as malaria. Since April 15, around 50,000 children with accurate malnutrition have had their treatment disrupted.
Access to pregnancy and childbirth care is another vulnerable area – Sudan already had a high maternal mortality rate, with around 25 per cent of births unattended by a skilled healthcare professional. At the start of the conflict, it was estimated that there were 219,000 pregnant women in Khartoum alone, with 24,000 due to give birth.
The stark reality is that Sudan's healthcare system has been on the verge of collapse for decades. However, with the rapidly deteriorating humanitarian and security situation, low-running supplies and under-pressure staff, it is now at breaking point.
MSF in Sudan
MSF staff carry out a vaccination campaign to protect children against measles in temporary camps set up at the border for Sudanese refugees. Chad, 2023. © MSF
MSF has been working in Sudan since 1979. We have been providing medical assistance throughout the civil war that led to the separation with South Sudan in 2011, and the decade-long conflict in the Darfur region.
Before the recent escalation in violence on April 15, 2023, we were running 11 medical projects across 12 states. This included 24 healthcare facilities, from mobile clinics to hospitals.
In 2022, MSF teams in Sudan held 449,654 outpatient consultations, admitted 21,664 people to hospital, treated 5,621 children for malnutrition and assisted in 2,791 deliveries.
MSF in conflicts
Around one-quarter of our medical humanitarian assistance is for people caught in armed conflict.
Armed conflict devastates lives and destroys communities. Targeted, harassed and caught in hardship and poverty, people are forced into flight or to live under siege and face indiscriminate attacks. Access to basic needs such as food and medical care is often disrupted.
Comprehensive medical and humanitarian support is vital, though health services are often scarce. MSF provides medical care based on needs alone and work hard to reach people who need help the most.
Around one-quarter of our projects are dedicated to assisting people living in areas of war and armed conflict including Yemen, South Sudan, Nigeria, Iraq and Syria among many others.