Gazans displaced in West Bank long to return home 
Thousands of Gazans working in Israel had their permits cancelled after Oct. 7, 2023.  
Following the attacks carried out by Hamas on Oct. 7, thousands of Gazans working in Israel had their permits cancelled. According to the Palestinian Ministry of Labour, around 6,000 are now displaced in the West Bank, some living in deplorable conditions. Our teams support them through donations, including medications for non-communicable diseases, and also offer mental health support.
"Before Oct. 7, everything was OK for me" says Hussein*, 62, who lives in Gaza but had worked in Israel for 37 years before the current war in the Strip. "I would go to work in Ashdod. Sometimes I would sleep there, and sometimes I would return to Gaza to visit my family and stay with them."
To make a living for his family, Hussein painted houses and worked in farms in Ashdod, a city in Israel about 35 to 40 kilometres north of Gaza.
"I was treated well, and I have a lot of Israeli friends," he says. "The day before the Oct. 7 attacks, I was drinking coffee with my best friend at the place where I lived. He's Israeli, and I met him while buying vegetables in the market. I used to bring him and his family some fruits and vegetables from Gaza. Our families quickly became friends, too."
But on Oct. 7 everything changed for Hussein. "I was sleeping when my friend and another man entered my room and started beating me with sticks. They shouted, 'your people are killing us here and you are sleeping in our houses!' They unleashed their dogs on me. They bit and ripped my stomach and torso."
After 10 minutes, Hussein managed to run away, but it took him 30 minutes to reach a safe place.
"I called an Israeli friend of mine, who came to pick me up. He took me to another friend's house, and I hid there for 10 days without seeing the sun. On Oct. 18, I got a taxi and came here to the West Bank."
Hussein arrived in Ramallah, West Bank's main city, and decided to head north to Jenin, where many centres run by the Palestinian Authorities are hosting hundreds of displaced Gazans.
MSF teams travel to these centres to provide medical donations, including medications for non-communicable diseases, and offer mental health support. Some patients have reported to our teams that they were beaten, humiliated and abused while being detained by Israeli forces since Oct. 7.
"The people here are truly kind. I was not expecting it," says Hussein. "But my family is in Gaza City. My wife and children live there. Sometimes I manage to reach them by phone. They tell me how the situation is over there. It's terrible.
I just want to live in peace. We do not want to bother anyone, and we hope no one bothers us. To live in peace within our families, our children and grandchildren. Palestine is my country, wherever I am, it is my country. I long to see my family in Gaza."
Today, Hussein believes that he will never be able to go back to Ashdod, the city where he used to work.
"The situation can never be the same," he says.
*Name has been changed for confidentiality.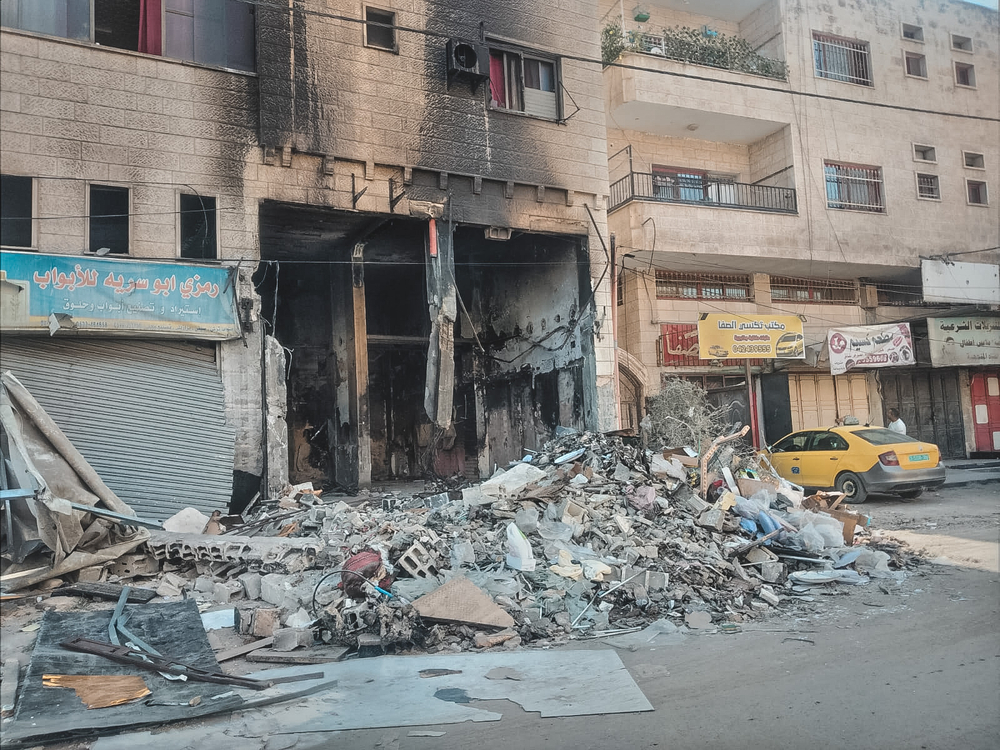 About MSF in Palestine
The information about our response, below, is correct as of Nov. 9, 2023.
MSF activities in Gaza are currently very limited. We have extreme difficulties delivering aid and providing healthcare due to the insecurity and the unpredictability of the bombardments. While some of our colleagues decided to move south following the unacceptable evacuation order of north Gaza, some of our other colleagues have remained in northern Gaza and continue to support in lifesaving activities in Al Shifa Hospital as well in Al Nasser hospital in the south. In Al Awda hospital, a team of seven MSF staff is also working in the MSF inpatient department.
We are also supporting local health authorities with donations from our medical stock. Due to the huge and uninterrupted influx of wounded people since the beginning of the current active conflict, Al Shifa Hospital, the main surgical facility in the Gaza strip, was on the brink of a complete shortage of essential medicines. In response, we recently were finally able to make a large donation of medical stock, including medicines and medical equipment to Al Shifa hospital.
Our staff are working hard on preparing medical and humanitarian supplies to be sent to Gaza when safe access will be guaranteed and open, and we'll send in emergency teams if and when we're able to.
MSF is committed to supporting the people affected by the Israeli heavy bombardments and indiscriminate attacks on Gaza. We stand in solidarity with healthcare workers and patients in Gaza. We want to be able to access people in need of medical care and offer lifesaving humanitarian services, but to do this we need basic guarantees of safety.
The West Bank
MSF's medical and humanitarian activities in the West Bank have been affected by the escalation of violence and the reinforced movement restrictions that have limited people's access to essential services, including healthcare. To adapt to the situation, MSF medical teams are providing phone consultations for Palestinian residents and displaced people, and referring patients for medical treatment, mental healthcare and social services. MSF mental health teams are also providing psychological first aid, counselling and psychotherapy, mostly remotely. In the West Bank city of Nablus, MSF teams are continuing to provide local people with mental healthcare.
MSF has donated medical supplies, including surgical kits, to Ahli hospital in Hebron, and first aid kits to community focal points in Beit Ummar, Al-Rashaydeh and to the emergency care centre in Um Al-Khair; and provided support including training for staff in Al Mohtaseb Hospital located in Hebron old city. MSF continues to assess the situation in hospitals across the West Bank.